About
Type: Ruin?
Parish: St.Philip
Founding date: 1851
See on Google Maps!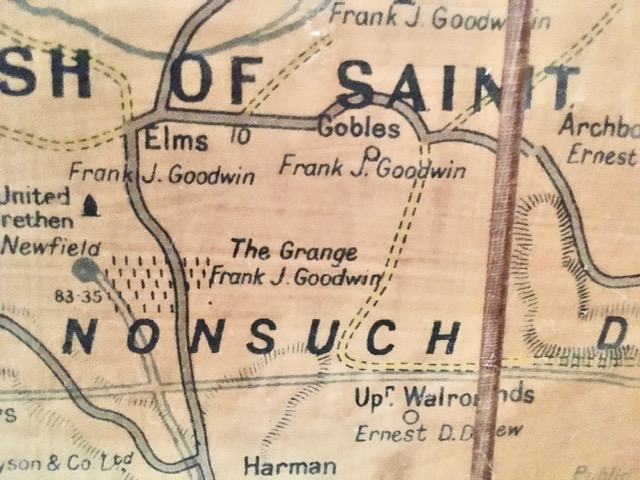 Current Status
There is no longer a mill at this site and very little information on the Grange which became part of the Gaynor's estate.
Estate Related History/Timeline
There is not much information of the Duncombe family but the Duncombe's date back to the mid 1600's in Antigua seemingly starting with Thomas Duncombe "of Antigua; removed from Surinam (with his 40 slaves) to Antigua circa 1677; Speaker 1683; Member of Council 1693; living in England; Will proved 1713." He received patents for two proportions of land, 250 and 650 acres, while in 1693 he was rated on 100 acres in St. Mary's parish.
History of the Island of Antigua by Vere Oliver. Vol. I.
"Dr. Duncombe Moffat, b.1801, son of William Moffat a solicitor in Edinburgh, died in Grange, Antigua, 1848."
Vere Oliver.
1835: Summons to appear in Court of Chancery for Antigua. Vanderhorst and Duncombe families. Slaves and estates in America and the West Indies. Summons to appear in Court of Chancery for Antigua. 1. Alexander Moffat of Antigua, Esq. and Cordelia Duncombe and his wife, heiress at law of the Hon. John Duncombe Taylor decd.: Robert Boyce .. Held by Bristol Record Office dated 1835 Ref.#8032/53.
Charles Frederick, lieut, 3rd West India regiment, md.28 Sept. 1858, Jessica-Mary, eldest dau. of Alexander Duncombe, Esq., MD., of the Grange, Antigua, West Indies.
Vere Oliver
William Goodwin and Frank J. Goodwin of Gaynor's (#108) estate of which the Grange became part of Easter Caribbean Supreme Court. 2014.
Prior to Mr. Goodwin's death in 1966, he sold at least three of the four estates to Antigua Syndicate Estates Limited ("Antigua Estates") with Antigua Estates mortgaging simultaneously, the Four Estates to Mr. Goodwin to secure the payment of the purchase price. Both transactions are dated 6September 1957. The terms of the mortgage required that the remaining balance owed for the Four Estates be paid in instalments until the total balance was paid off in full. At the time of Mr. Goodwin's death all instalments under the first tranche of the purchase price had not been met. Prior to Francis John's death, he appears to have been possessed of various plantations or estates of land in Antigua described as:
(i) "Gobles" said to contain approximately 227 acres;
(ii) "Gaynor's" said to contain approximately 161 acres;
(iii) "The Grange" said to contain approximately 36 acres; and
(iv) It is asserted, a plantation or estate called "Elms Creek" containing approximately, 161 acres; Mr. Goodwin sold Gobles, Gaynor's and The Grange for a total purchase price of $43,200.00. After a total of $28,080 was paid in quarterly instalments a balance of $14,400 was left on account 1st August 1967 and not paid to Mr. Goodwin's estate on his death July 1966. Claimants on behalf of family of Mr. Goodwin were trying to get retribution from the Antigua Government for lack of full payment on lands which were vested to the Crown (Vesting Act 1969) by ASF & ASE.
Pereira, C.J. on 11th March 2014 dismissed the case in its entirety mainly due to the lateness of suit and time elapsed.
Enslaved People's History
Based on contemporary research, we have little information to share about the enslaved peoples from this plantation at this time. We will continue our quest for more information about these vital individuals.
Ownership Chronology
Earlier unknown.
Ownership from 1850 Alexander Duncombe
1870: William Goodwin (1830-1898)
1933: Frank J. Goodwin (1881-1966)
1957: Antigua Syndicate Estates Ltd.
1958: Antigua Government – Crown Land