About
Type: Extant
Parish: St.Philip
Founding date: 1829
See on Google Maps!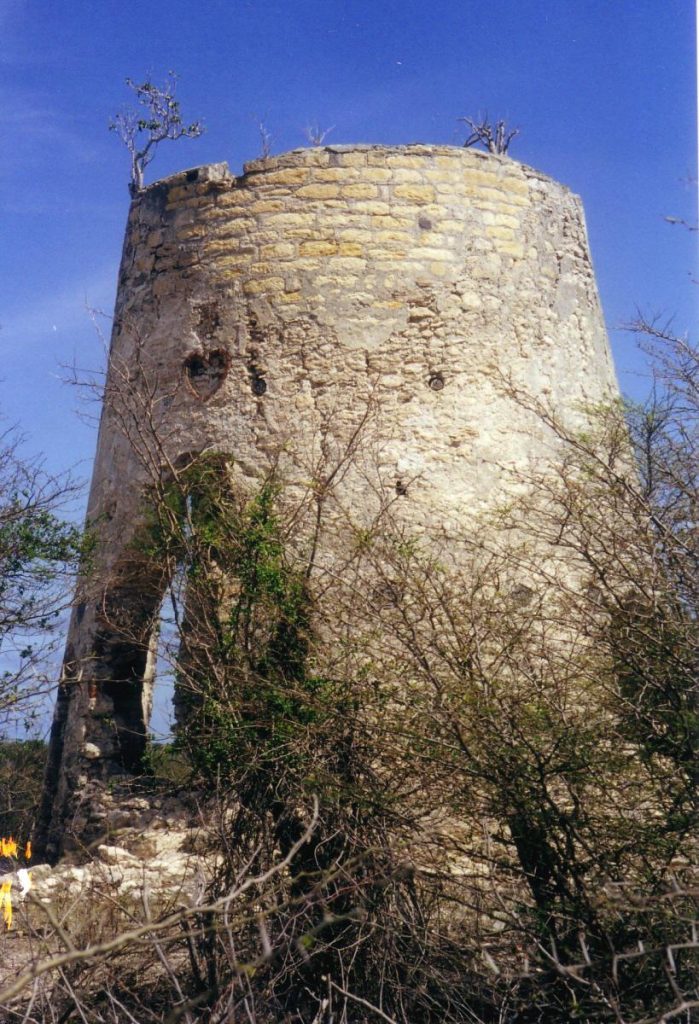 Current Status
The Hope plantation was next to Montpellier on comparatively flat land yet in the distance, still could be seen, was Nonsuch Bay. This mill did not convert to steam but the proximity to Montpelier, would suggest that their cane was sent to them to be crushed. A lovely little red brick heart is built into the mill above the main arch to the west making this mill unique.
The Hope was one of nine estates purchased with Montpelier in order to produce molasses for the production of Cavalier Rum.
Estate Related History/Timeline
1806: "On this day John Norrington, formerly a seaman of H.M. brig sloop WASP, applied for his wages, having produced his Sick Ticket and Discharge from the Naval Hospital.   On 8 November, 1806, he had been sent to join the brig sloop GUACHAPIN (16) (grounded in St. John's, 1811) to await passage to England.   He failed to obtain a passage, so on 15 Jan. 1807, he was readmitted to the hospital.   Then on 17 March he was discharged again to go forthwith to England, but instead he was taken on by Richard Garland Esq. as an overseer of the slaves at his estate "Hope", where he at this date still lived (14 years later)".  (ANYC IV:15.10.21)
1829: In 1829 this Estate contained 208 acres -119 slaves.
1833: In 1833 Parliament finally abolished slavery in the British Caribbean, Mauritius and the Cape.   The slave trade had been abolished in 1807 but it took another 26 years to effect the emancipation of the enslaved.   The legislation of 1833 was the result of a combination of factors where it was felt that the plantation owners should be compensated for their slaves who were to be freed.   The amount of 20 million pounds, a huge amount in those days, was divided up between all slave owners.
1851: The Antigua Almanac shows The Hope of 265 acres belonging to Francis Watson.
1852: In 1852 the Hope contained 208 acres.  
Vere Oliver Vol.III p.208
1944: In 1944 The Hope became one of the nine estates owned by the Antigua Distillery aligned with Montpelier Sugar Factory.    After the demise of sugarcane in the 1970's it became pasture land for the raising of cattle and sheep.
Enslaved People's History
Based on contemporary research, we have little information to share about the enslaved peoples from this plantation at this time. We only know that Hope was awarded £1,751 6s 7d for the freedoms of 114 enslaved people when slavery was abolished in the Caribbean. The awardees were Samuel Boddington, Thomas Boddington the younger and Richard Davis. Unsuccessful was John Allan and Thomas Warwick Hyndman. Richard Garland was Beneficiary deceased. Thomas Warwich Hyndman's claim was unsuccessful as executor and trustee of Richard Garland for the Hope estate in Antigua (b.1817). However, we will continue our quest for more information about these vital individuals.
Ownership Chronology
Owners from
1829: Richard Garland – 208 acres, 119 slaves
1843: Heirs of Garland
1852: Francis Watson – 268 acres 1852 Antigua Horsford Almanac.
1878: F.B. Harman – 320 acres with Montpelier 1872 Antigua Horsford Almanac
1933: Ernest Dew 1933 Camacho map.
1944: The Antigua Distillery