About
Type: Extant
Parish: St.Paul
Founding date: 1667
See on Google Maps!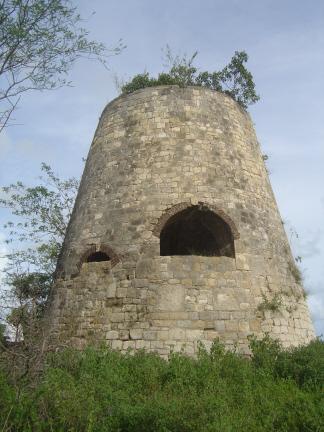 Current Status
Villagers in Bethesda call this Blake's mill, however it is surrounded by Thomas' pond and ruins to the south and Thomas Hill to the north and is approximately situated where designated on a 1933 map.
Estate Related History/Timeline
1667: Lieut. William Thomas 100 acres at Old North Sound
1667: William Thomas was granted 100 acres in 1667 and later acquired Upper & Lower Five Island Estates of 703 acres and Northsound 602 acres.
1675: "1675, April 11.   Captain William Thomas, 25 acres granted by Governor Warner, also "Bird" now called George Island, surveyed 12 June.   Delivered to him according to ye ancient custom of England with turf and twig."
1678: Edward Thomas 180 acres by Col. James Vaughn.  (noting the name of Thomas)
1680: "1680 –   By Indenture dated 6 Oct. Anna Thomas, wife of Capt. William Thomas, gives to her husband her plantation and negroes in North Sound Division."   Vere Oliver Vol.III p.131
1778: Sir Wlm. Thomas (d.1778) owned New North Sound Estate.
The name of this estate is believed to stem from Yapton, near Arundel in Sussex, England, where one of the owners, probably Sir George Thomas, came from.
The Thomas Baronetcy, of Yapton in the County of Sussex, was created in the Baronetage of Great Britain on 6 September, 1766 for George Thomas, Governor of the Leeward Islands from 1753 to 1766. The title became extinct on the death of the seventh Baronet who was a prominent chess player, in 1972. Family first names were George and William (see #29 Yapton's).
See Cochran's (#139) for information of the Cranstaun family who owned both estates from 1918.
1802: Sold New North Sound of 286 acres to Thomas Edwards in 1802 for £22,000.   Vere Oliver Vol.III p.131
1829: In 1829 this estate contained 520 acres and 90 slaves.
1833: In 1833 Parliament finally abolished slavery in the British Caribbean, Mauritius and the Cape.   The slave trade had been abolished in 1807 but it took another 26 years to effect the emancipation of the enslaved.   The legislation of 1833 was the result of a combination of factors where it was felt that the plantation owners should be compensated for their slaves who were to be freed.   The amount of 20 million pounds, a huge amount in those days, was divided up between all slave owners.
Helen Braid – unsuccessful claimant – absentee/resident? Antigua 271 (Thomas') view 1002 £1,286 6 s 5 d (69 enslaved). The awardee was William Byam.
1851: The Antigua Almanac shows Thomas's of 520 acres belonging to James W. Sheriff.
1878: "Thomas's" in St. Paul's Parish of 520 acres was owned by James W. Sheriff." Vere Oliver Vol.III p.135
1918: see Cochran's (139) for further information on the Cranstoun family who purchased this estate.
1941: Antigua Sugar Factory, Ltd. Cane Returns for 1941 Crop.   Cochran's & Thomas.  Estimated 2518 tons, 120 acres estate, 26 acres peasants on the estate, tons of cane delivered 2567 at 19.26 tons per acre.
1943: August 1st Gunthorpes Estates Ltd. was restructured (see #64 Gunthorpes) into a 'new' company renamed Antigua Syndicate Estates Ltd. The Bennet-Bryson estates were Sanderson's, Long Lane/Lavington's/Ffrye's, Burke's/LaRoche/Willis Freemans, Jolly Hill (Jolly Hill, Blubber Valley, Ffrye's, Montrose*, Yorke's and the Cove), Hawes and Mercer's Creek, Cochran's and Thomas's, and were bought for £39,000.
1943: The Lands of Antigua and Barbuda Sugar Factory Limited and the Antigua & Barbuda Syndicate Estates Limited (Vesting) Act.   All that piece or parcel of land forming part of Thomas', approximately 188,7223 acres as contained in Certificate of Title No.2411943 dated 3rd August, 1943 and registered in Register Book Q Folio 24.
Showing the transfer of Thomas' from Bennett-Bryson to the Antigua Syndicate Estates, Ltd.. There were a total of 17 estates.
Enslaved People's History
Legacies of British Slave-ownership claimants: Based on contemporary research, we have little information to share about the enslaved peoples from this plantation at this time. We only know that, in 1829, this estate contained 520 acres and 90 enslaved people. We will continue our quest for more information about these vital individuals.
Ownership Chronology
Ownership from 1667 William Thomas
1750: William Thomas (d.1778)
1790: Hon. John Laforey
1829: Heirs of Gillan
1843: Heirs of Gillan
1851: James W. Sheriff – 520 acres
1878: Hon. James Watson Sheriff
1891: Robert Sheriff
1918: Langford Selly Cranstaun (d.1932) – Cochrane's a total of 640 acres.
1932: Heirs of L.S. Cranstaun
1933: G.W. Bryson & Co. Ltd.
1943: Antigua Syndicate Estates Ltd
1967: Antigua Government – Crown Land