About
Type: Ruin
Parish: St.Philip
Founding date: 1701
See on Google Maps!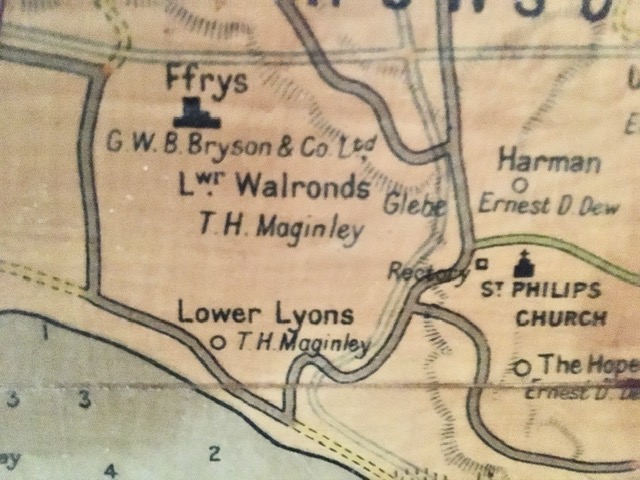 Current Status
There is no longer a mill at Walrond's Lower and neither converted to steam. The Walrond name appears to be a big one in Barbados and Henry Walrond was Governor in Barbados, d.1683.
Walrond's is one of the nine estates purchased by the Antigua Distillery along with Montpelier Sugar Factory in order to produce enough molasses for the production of Cavalier Rum.
Estate Related History/Timeline
1698: "John Lucas writes from prison in Antigua to his friend Edward Walrond and says, 'There was Execution against your estate for 500 pounds sterling' they Wd have taken 20 of your negroes, but your attorneys objected and raised the money. …."
1701: Maine Sweet, the 3rd son of Rv. John Swete, moved to London about 1688, and from there to an estate on the island of Antigua. He was a member of the Assembly in 1704 and 1715. Genealogy. "The plantation of Captain Main Swete at Falmouth of 337 acres was surveyed on July 15, and a plan is recorded in the Surveyer's Book, fo.54
Vere Oliver Vol.III p.106
1750: "Theodore Walrond of Antigua purchased lands of Main Swete April 1726; burr on his estate in St. Philips, Antigua. Baptised Theodore S. of Mr. Main Swete Waldron and Sarah his wife of St. Philips Parish, Willoughby Bay."
Main Swete Walrond (1725-1790), wife Sarah nee Lyons d.1764. MI at "Upper Walronds", St. Philips, Antigua." "In Hopes of a Blefsed Redfurrection/Here are deposited/The Remains of/Mrs. Sarah Walrond/The Beloved Wife/of/Main Swere Walrond Efq.,/Of this Ifland of Antigua/Born September 4 1731//She departed this Life/Alas too soon/In her 33rd Year/January 2nd 1764 (six lines follow)
Vere Oliver Vol.III P.179/80
1779: Mainsweet Walrond was Governor of Monk's Hill in 1779. Oliver Vol.III
1829: Upper Walrond's contained 222 acres, Lower 154 acres and combined, 246 slaves.
"Upper Walronds. In a small walled enclosure surrounded by dense scrub, on a ledger over a stone tomb, the ledger being cracked across and a plant growing through it.
In Hopes of a Blefsed Refurrection/here are deposited/The Remains of/Mrs. Sarah WALROND/The Beloved Wife/of/MainSwete Walrond Esq./Of this island of ANTIGUA/
Born Sept 4th 1731/she departed this life/Alas too soon/In her 33rd year January 2nd 1764 (six lines follow)."
Vere Oliver Vol. III p.183.
1851: The Antigua Almanac shows Walrond's Upper 222 acres & Lower 154 acres as belonging to Bethel Walrond.
1994: In 1944 became part of the Antigua Distillery lands aligned with Montpelier Sugar Factory.
1969: The Lands of Antigua & Barbuda Sugar Factory Limited and The Antigua & Barbuda Syndicate Estates Limited (Vesting) Act. 30th December 1969.
All that piece or parcel of land forming part of Lyons and Lower Waldrons, approximately 191.5109 acres as contained in Certificate of Title No.4011944 dated 30th August, 1944 and registered in Register Book Q Folio 85.
www.tombstones.bb (2005)
Recorded but not found. Walrond/Sarah
Enslaved People's History
Based on contemporary research, we have little information to share about the enslaved peoples from this plantation at this time. We only know that the Lower Walrond and Upper was awarded £3,626 12s 1d for the liberation of 233 enslaved people when slavery was abolished in the Caribbean. The awardees were Charles John Manning and James St Claire-Erskine. However, we will continue our quest for more information about these vital individuals.
Ownership Chronology
Ownership from 1701 Capt. Main Swete
1726: Theodore Waldron (d.1750)
1790: Mainsweet Waldron (1725-1790) 222 acres, 151 slaves. 1777/78 Luffman map
1803: Lieut. William Grant sold this to John William Dow
1829: Bethell Walrond – 246 slaves.
1871: Lower Walrond – Henry Browne 150 acres
1843: Bethell Walrond (1801-1876) Upper 222 acres, Lower 154 acres. 1851 Antigua Almanac.
1878: Heirs of H. Bourne… Member of the House of Assembly
1896-1921: John Maginley
1933: Earnest Dew (Upper) (d.1900) – T.H. Maginley (Lower) 1933 Camacho map.
1944: The Antigua Distillery (part of Montpelier)