About
Type: Extant
Parish: St.Philip
Founding date: 1681
See on Google Maps!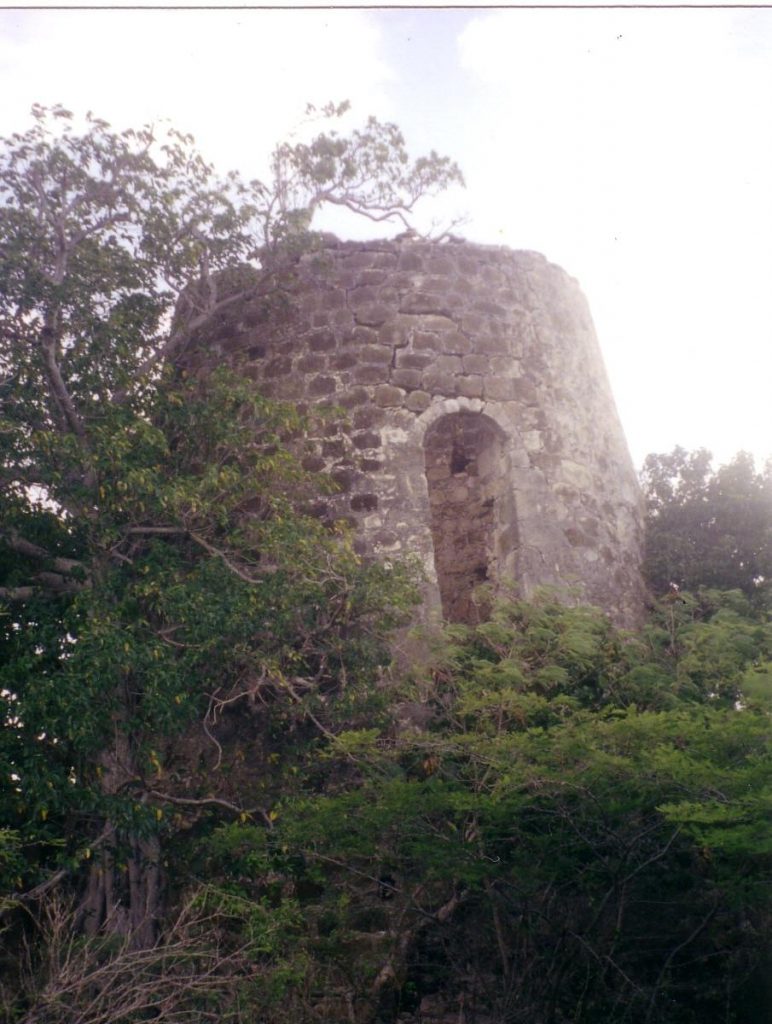 Current Status
This mill is in fairly good condition but surrounded by bush.
Estate Related History/Timeline
The 1933 Camacho map shows two Wickhams. The second in 1933 belonged to Heirs of Joseph C.T. Thomas and is located south of Indian Town Creek. One source states that "Thomas Freeman, the husband of Anne Wickham and grandfather of Thomas Inigo Wickham Freeman, changed the name of Wickham's to Upper Freeman's sometime before 1785.
In History of the Island of Antigua by Vere Oliver, Vol. III , is a rather complicated and drawn out petition to the Assembly by Catherine Newgent for 20 acres which is opposed by Benjamin Wickham.
The 20 acres in Nonsuch Division on the N. side of the harbor, bounded E. with Francis Allen, N. with Henry Lory, W. with John Chard and S. with the creek of Nonsuch Harbour. The 20 acres were part of 80 acres granted to John Duer who had leased to Tim St. John 210 acres for 10 years (1707) which included the said 20 acres. I do not show Duer in the ownership chronology!
Returns were made in the 1817 and 1821 Slave Registers by Samuel Warner for an unnamed estate on behalf of Thomas I.W. Freeman and then between 1824 and 1832 by Charles Kerr Dow, attorney for Thomas Inigo Wickham Freeman for "Freeman's."
            "It has even been postulated that Thomas' family spent time in the Caribbean since there are records of Wickham's as early as the 1600s living on Antigua (colonized in 1632) and Barbados (colonized in 1625). In the early 1700s, there were four Wickham brothers living on Antigua, where they owned large sugar plantations. During the revolt of 1710 against the colonial governor, they sided with the royal government and sent a petition to the Queen asking for assistance after Governor Parke was assassinated. In the following years, they continued to serve in the assembly. Some of the Antigua/Barbados Wickhams eventually returned to England, including the ancestors of Sir Henry Wickham (1846-1928), who was knighted after he smuggled 70,000 rubber tree seeds out of Brazil for the Royal Botanical Gardens at Kew. His exploit destroyed the lucrative rubber monopoly of the Brazilian planters, but permitted the development of rubber plantations in Asia."      
Wickham Family Genealogy  
1681: Benjamin Wickham (d.1705) purchased 20 acres and in 1701 a further 60 acres.
1683: "Benjamin Wickham, sole heir to Philip Watkins 1693; of the Carabiniers 1708;   Member of Assembly for Belfast 1714-15;  of St. Philip's Parish and owner of 480 acres and 100 slaves 1720." 
Vere Oliver Vol. III p.229
1723: "Maj. John Wickham died 30 Nov.1723, at 41.  His M.I. (memorial) is at "Wickham's." Upper Freeman's at the family burial-ground in a cane piece, and under a large bread-fruit tree on a ledger, over a stone vault:   Maj. John Wickham and Elizabeth Wickham.
"Benjamin Wickham late belonging to John Myers (Mayer) …..and another plantation late of Benjamin Hull, and south with the plantation of Philip Lyditt."
1802: Indenture "…. and convey to Andrew Edwards all that plantation of 286 acres 3 roods and 28 perches in the parish of St. Philip and division of Belfast in Antigua.
1829: In 1829 this Estate contained 216 acres – 131 slaves.
1852: "1852 Burnthorn Musgrave owned Gaynor's of 67 acres, Wickhams of 216 acres, both in St. Phillip's Parish and Drew's Hill of 253 acres in St. John's Parish."
                                                                              History of the Island of Antigua by Vere Oliver.
This distinguished Musgrave family was for many years represented in King's County by the Hon. and Rev. Burnthorn Musgrave, M.L.C. of Antigua, W.I., second son of Anthony Musgrave,M.D.(Edinburgh), Treasurer of Antigua from 1825 to 1852, and his wife, Mary Harris Sheriff, and older brother of Sir Anthony Musgrave, G.C.M.G., Lieut.-Governor, successively, of St. Vincent, Newfoundland,British Columbia,and Natal, and Governor of South Australia, Jamaica, and Queensland.  Hon. Burnthorn Musgrave, who was first a sugar planter in Antigua, and then a clergyman of the Reformed Episcopal Church of America, was born in Antigua, March 11, 1823., and married there, June 30 1847, Frances Albony, dau of John Adams and Margaret (Albony) Wood, and died at "Holmworth", Auburn, King's County, where he settled in May 1870,July 29 1894 (as written). His wife died there in 1893. He had  6 children:  Genealogy
1851: Antigua Archives show Wickham's of 216 acres belonging to Burnthorn Musgrave.
1852 Wickhams contained 216 acres and was owned by Burnthorn Musgrave.
In the 1940's Edwards `Cotton King' produced more cotton than anyone else on the island, hence the nickname.   He also ran goats.  When Edwards died no one seemed to be interested and the estate was sold to Lionel L. Brown, a policeman.
Enslaved People's History
Based on contemporary research, we have little information to share about the enslaved peoples from this plantation at this time. We do know that the estate was awarded £2,121 for the liberation of 150 enslaved people when slavery was outlawed in the Caribbean. The only awardee was Josiah Martin owner of the estate at that time. We will continue our quest for more information about these vital individuals.
Ownership Chronology
Ownership from 1681 Benjamin Wickham (d.1705) removed from Barbados 1679
1705: Maj. John Wickham (d.1723)
1750: Joe & Benjamin Wickham (d.1761)
1770: Thomas Inigo Wickham Freeman (d.1785) changed 'Wickham's' to 'Upper Freeman's'
1829: Joseph Martin 260 acres, 131 slaves.
1843: Josiah Martin 131 slaves.
1852: Burnthorn Musgrave (1823-1894) – 216 acres. 1851 Antigua Almanac.
1871: J.E. Anthonyson. – 168 acres. 1878 Antigua Horsford Almanac.
1933: R.S.D. Goodwin (1874-1950) 1933 Camacho map.
1940's: Edwards (Cotton King)
1900c: Lionel L Brown.