About
Type: Extant
Parish: St.Paul
Founding date: 1728
See on Google Maps!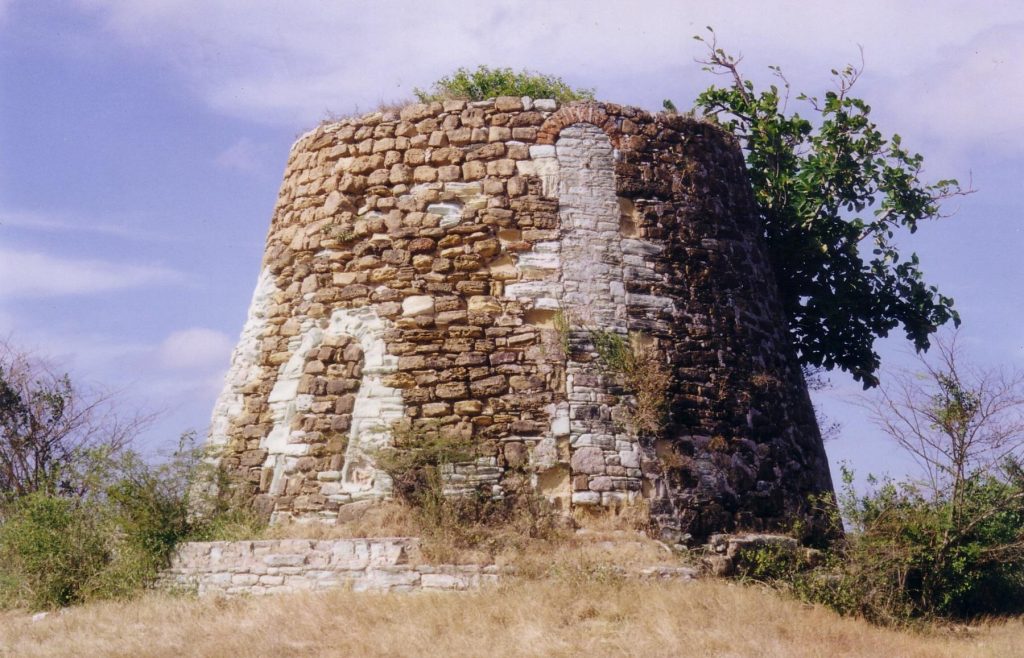 Currrent Status
This estate did not appear to have converted to steam and the mill has been shortened and converted into a water cistern. The house was a small one compared to others on the island and the ruins still exist just below the mill.
The Government awarded some of the Willis Freeman's land to the Rastafari religion for their headquarters in Antigua.
Estate Related History/Timeline
1706: "Petition of Arthur Freeman, an Ex'or in Trust for Robert Freeman of Antigua, infant, reciting that John Slicer of Antigua owned several plantations, and died leaving them to his only child Mary Slicer, whom Robert Freeman married, and improved said lands.   They, by Act dated 24 Dec. 1700, were empowered to sell portion of the lands.   Robert Freeman is dead, leaving an only child and infant Robert Freeman.   Mary, widow of Robert Freeman, is married to one Perne, who threatens the purchasers of the said land.   Dated 14 Feb. 1706-07." V.Oliver Vol.I p.266
David 'Justice" Cranstoun was plantation manager in the early 1800's to Robert Sutton's mother of the Willis Freeman Estates. In a letter from David Cranstoun to Robert Sutton, Durham, Norfolk dated 19th February, 1843. "For Willis we have cause to be abundantly thankful to the Almighty for the injury to the mill (as far as we can discover compared to others) is so trifling that the repairs have been completed. And I hope to complete the Boiling House in the course fo two days sufficiently to enable me in taking off the crop in the course of the next week. The works on the La Roche estate, a property belonging to Mr. Thomas Brooke, are quite levelled with the ground and the canes must perish in the ground if assistance is not afforded by the neighbours.
Willis's and Burkes are the two nearest properties to it and propose that at such times that these estates (for occasionally have to stop to plant) to allow La Roche's the use of their works."
Dr. Willis Freeman of Willis Freeman's estate introduced dates (phoenix reclorant), camels and acacia to Antigua. The camels were not successful due to the hard, stony ground which damaged their hooves. The dates were used to produce Palm Oil (Nigger Oil Tree) and also hats from the palm fronds. A one armed fellow called Linberg was taught how to weave the hats by Miss Lake when Frankie Lake was manager of Delaps.
The acacia used to produce a gum which was used to make a sweet called 'jub jub'. A specimen is at Kew Gardens in England, Terminalia Boncalea, "Native tree of Antigua".
The area is also noted for the amount of petrified wood which testifies to Antigua being once heavily forested. Jules Walter.
Benedic(k) Freeman Willis, eldest son of Mrs. Willis died at the age of 24 and is buried in a white boxed tomb in St. George's Church yard. His many virtues are extolled theron.
1705-1739: There is a reference to 'Freeman's Rest" of 300 acres in St. Paul's Parish.   Vere Oliver Vol.I p.261    This is probably the 'Willis Freeman' estate.
1807: Ann Freeman Sutton (Lydia Byam Sutton's youngest daughter b.1807) inherited Willis Freemans and 67 acres by Falmouth Harbour, jointly with her sisters.   Maria Freeman Sutton (Lydia Byam Sutton's second daughter) married Charles Miles who came out to Antigua to sort out the Willis Freeman's estate and returned with a copy of Antigua & the Antiguans shortly after it was published.   Maria Freeman Sutton was Mary Willis's God-daughter.   Gay Byam
In 1829, it contained 430 acres and 122 slaves.
Antigua 395 Willis Freeman's was awarded £1,736 9 s 7 d with 114 enslaved.   Robert Sutton was the sole awardee owner at that time.
1851: The Antigua Almanac shows Willis Freeman's of 430 acres belonging to Robert Sutton.
1852: Willis Freeman of 430 acres was owned by Robert Sutton.
1872: An example of a newly arrived family that benefited from act was the Maginleys. Two brothers, John and Robert, arrived from Ireland sometime between 1852 and 1872—they are not listed as owning estates in the 1852 almanac, but are 1872. The story is that they came as apprentice planters, or managers, but quickly set about acquiring estates of their own. Using both the court and private sales, they had, by 1878, accumulated almost 4,500 acres and together were the largest owners in Antigua. Their estates (Comfort Hall, Gilbert's, Long Lane, Lavington, Lyons, Willis Freeman's, and Burke's/LaRoche/Table Hill) were primarily in the fertile southeast. 
1891: By 1891—again using the court— These had been supplemented by Cedar Hill and Sanderson's, for a total of nine estates. John served on the Legislative Council for twenty years, as well as on a number of public boards, and was a leading member of the plantocracy.  antiguahistory.net/upload
Letter to the Colonial office to Royal Gardens – Kew.
Sir,                                                                             Downing St., 18th December 1895.
I am directed by the Secretary of State for the Colonies to transmit to you the accompanying copy of a dispatch from the Governor of the Leeward Islands, forwarding a report from the curator of the Botanic Station on date cultivation at Copse Cross (Cobbs Cross) Station and to request that he may be favoured with your observations thereon.
I am & c. (signed) R.H. Meade.
The Director
Royal Gardens, Kew.
——————————————————————————————————
To the Governor of the Leeward Islands to Colonial Office, Government House Antigua.
19th November 1895.
Sir,
I have the honour to transmit, for the information of the Director of the Royal Gardens Kew, copy of an interesting report which I have received from the curator of the Botanic Station on the progress of the date cultivation at Copse Cross Station near English Harbour.
2. Mr. Tillson concludes his report by asking for the advise of the Kew authorities as to the advisability of extending this cultivation.
I have, & c. (Signed) Geo. Melville, Adminstrator.
The right Honourable Joseph Chamberlain P.C., & c & c.
Passed down through the ages is the story of a nearby rock at Willis Freeman estate that bears the imprint of a human foot with a horse shoe side by side. Local people believe that they are the devil's footprint on that rock. Robert J. Margotson 1988.
1941: Antigua Sugar Factory Ltd Cane Returns for 1941 Crop. Willis Freeman.  Estimated 3301 tons, 138 acres estate, 15 acres peasants on the estate, tons of cane delivered 3204 at 22.16 tons per acre.
Jules Walters was the overseer for Willis Freeman when he was age 20 taking over from Norris Abbott in 1949. Both the painting and the picture of the estate house are attributed to Jules. Jules Walters
1943: August 1st Gunthorpes Estates, Ltd. was restructured (see #64 Gunthorpes) into a 'new' company renamed Antigua Syndicate Estates, Ltd. The Bennet-Bryson estates were Sanderson's, Long Lane/Lavington's/Ffrye's, Burke's/LaRoche/Willis Freeman's, Jolly Hill (Jolly Hill, Blubber Valley, Ffrye's, Montrose, Yorke's and the Cove), Hawes and Mercer's Creek, Cochran's and Thomass' and were bought for £39,000.  All  properties held on Certificate of Title.    Share distribution of Antigua Syndicate Estates Ltd, Certificate of Title 7th July 1944. 
1969: The Lands of Antigua & Barbuda Sugar Factory Limited and The Antigua & Barbuda Syndicate Estates Limited (Vesting) Act.   30th December, 1969.
13. All that piece or parcel of land forming part of Burke's, La Roche's, Willis Freeman's and Table Hill approximately 769,999 acres as contained in Certificate of Title No.211944 dated 17th February, 1944 and registered in Register Book Q Folio 47.
Enslaved People's History
Legacies of British Slave-ownership: Based on contemporary research, we have little information to share about the enslaved peoples from this plantation at this time. We only know that, in 1829, Willis Freeman's contained 430 acres and 122 enslaved people, 114 of whom were liberated that same year for the sum of £1,736 9 s 7 d due to the abolishment of slavery in the Caribbean. We will continue our quest for more information about these vital individuals.
Ownership Chronology
1728 Mary Freeman
1750 Freeman Esq.
1790 Mrs. Mary Willis – 1777/78 Luffman map
1829 Mrs. Sutton
1843 Robert Sutton
1878 James Maginley
1891 James Maginley
1933 G. W. Bryson Co., Ltd.
1943 Antigua Syndicate Estates, Ltd.
1967 Antigua Government – Crown Land