About
Type: Extant
Parish: St.Peter
Founding date: 1718
See on Google Maps!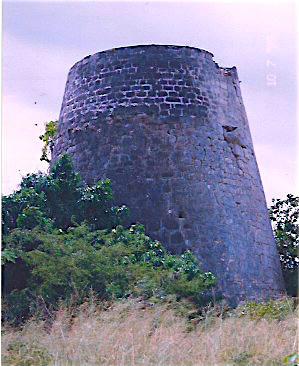 Current Status
The mill is still intact and in reasonable shape though surrounded by bush. Nearby are the remains of the foundation of the house including the steps and various outbuildings. This estate did not convert to steam. Potworks Dam flooded part of Yeamons, Delap's and Little Duer's estates when built in 1968.
Estate Related History/Timeline
John Yeamons (1661-1718) owned 400 acres at Old North Sound. William Yeamans (d.1753) Vere Oliver Vol.III p.270 1681: Captain John Yeamons 155 acres. 1682: Captain John Yeamons 100 acres. Patent by Sir W. Stapleton. "One of the earliest and most respectable settlers in Antigua, named Yeamons, says an account of that island, was carried off by the Caribs ….. He, however, returned to Antigua after an absence of several years, at the felicitous moment when his wife was about giving her hand to another husband." Vere Oliver Vol.III p.276 "Elizabeth Rachel Ann Yeamons (sole surviving child of John Yeamons (deceased)." "1677 Lt. Samuel Jefferson 30 acres. John Jefferson d.1760, Robert Jefferson d.1807 1740 A portrait of John Yeamans and his son Shute Shrimpton Yeamans of Antigua and Boston Circa 1740 has come up for auction at Northcoast Auctions 2016. 1771 Nathaniel Crump mentions he owns 150 acres in Belfast Division which he had purchased from John Jefferson dec. Henry Jefferson, who traded in Antigua married in Antigua about the year 1780 Ann Twedie. She was fourteen years old and had fifteen children before she died in Whitehaven." Vere Oliver Vol.II p.110 1731: "Despite periodical tropical rainstorms there was a constant shortage of freshwater and, in 1731 a Bucket of Water would sell for 3/-" The Jefferson's of Whitehaven by Brian Parnaby. Shute Shrimpton Yeamans, Esq., a man of affairs in London and a stockholder and official of the South Sea Company, died in 1769. An Antigua Plantation, 1769-1818 by Ulrich B. Phillips, Published by North Carolina Office of Archives & History. There are several volumes of yearly financial reports of the Antigua plantation in ledger form from 1779 to 1817, with an extra report for the first three months of 1818 (volumes for 1790 to 1795 missing.) It makes for interesting reading. 1832: "The Jefferson family were from Whitehaven, Cumberland, England and owned Yeaman's, Yorke's and New Division. Through their shipping company notably the brig "Thetis", they transported sugar to England for the Codringtons, Jarvis and Nugents. When sugar prices were depressed they began buying up molasses and produced in Whitehaven one of the best rums in England." The other estates owned by the family were: Yorke's and New Division. These estates were also purchased, in 1832, from the Ogilvy family. The Jefferson's also had financial interests in Jolly Hill Estate, Golden Grove and Greencastle. he Jefferson's of Whitehaven" by Brian Parnaby. In 1829 this estate contained 210 acres – 110 slaves. 1835: "In the accounts o Slave Compensation claims for the Colony of Antigua, in October 1835, Robert and Henry Jefferson are recorded as having received £2,342 2s 0d ukl in return for their emancipation of 146 slaves. A further amount of £4,549 5s 10d ukl was paid on 5th October 1835 as compensation for the similar emancipation of 309 slaves." The Jefferson's of Whitehaven by Brian Parnaby. Legacies of British Slave-ownership. www.ucl.ac.uk/lbs/search Antigua 337 Yeamon's was awarded £779 13 s 7 d for 43 enslaved. Awardee was Tryphania White (nee Roden) and John Ronan jr. deceased beneficiary. Also listed was Antigua 339 Yeoman's which was awarded £1,554 5 s 5 d for 99 enslaved. Awardees were John Watson Borradaile and Joseph Edleman while Daniel Henry Rucker was 'other association.' I can find no estate of this name and do not know if it is Yeamons misspelled. 1851: Antigua Almanac shows Yeamons of 120 acres belonging to Messrs. R & H Jefferson. 1852: Yeamons contained 120 acres and was owned by Messrs. R & H Jefferson. "The Jefferson's had an Agent, Mr. Bispham, based on Antigua in the 1850's, whilst they were exporting Rum and Sugar to Whitehaven. By 1859, the Jefferson-owned Brigantine "British Queen" was plying between Whitehaven and Antigua and did so for over twenty years, for the same purpose. George C. Bispham, a member of a well-known Barbados family looked after the Jefferson's interests on Antigua, primarily the Yeamons Estate." "The Jefferson's of Whitehaven" by Brian Parnaby Letter written from Yeamans Estate to Whitehaven, England in April of 1881. "Referring to your observations about the number of overseers which appear to have been employed in the last quarter, I beg to state that it arose chiefly through the unhealthy situation of the estate. Two overseers, Crook and Williams (d.1850), having died within that time and the Manager being ill and unable to attend to the duties of the Estate. Mr. Burrows gave up the situation soon after he went on the Estate. Mr. Lake being a man who could be depended upon was sent to me from Cocoanut Hall to superintend the work during Mr. Frew's first illness and returned after Mr. Frew's health improved….." Yeamans Estate regularly dealt with a firm of Hunt & Turner before the introduction of the Colonial Bank in Antigua. "I beg to advise my draft on you of this date at Ninety days in favor of Messrs. Hunt & Turner & Co. for £250 on account of Yeamons Estate which please honor." They were in search of a new Still and started out shopping the Island for a used one, but ended up with a brand new one from Liverpool, reporting; "Both the Still and Still head have been sold by Mr. Turner." Inventory of Stores at Yeamans Est., December 6 1880 Ploughs, Carts & Agricultural Implements. 1 Ransome Plough 6 Mule carts Large 6 Agricultural forks 2 Jeffrey do 1 do do small 2 Pick axes 1 Weed ag. machine 1 cattle cart 3 Hoes 1 Subsoil plough 1 Waggon 6 Drills 1 Pony Plough 1 Dray 15 Bills 1 Cultivator 1 Cattle Crank 5 Knives 1 Pony Plough 1 Mule Crank 1 Cutlass – 1 Axe Harness etc. 4 Cart saddles 8 Collars 6 Breechings 9 Drawing chains 2 Back Chains 8 Harness 6 Blinds 4 Padds 6 Cart Reins 10 Yokes 16 On Bows 9 Cattle chains. In Boiling House. 5 Skimmers 4 Ladels 3 Pails 8 Galvanised Buckets 1 Triangular Strainer 1 Strainer for mill 4 Megass Rakes 1 Megass arag 2 Megass Barrows 1 Sacchanmeter 6 Lamp cases 1 Moveable wrench In Loft. 1 Fall 8 Guys 2 Iron Blocks 20 Pieces brass 6 Copper strainers Sundry pcs. tinned copper Vane Nails 4 Sails (in use) 1 Copper sundial 4 Pieces old sail 1 Copper pipe 8 Copper tubes 1 Pump plunger & handle 1 Packet Sulpher 2 Cart naves (new) 6 Tins & 17 Spoons 5 small tins 1 Iron drum with lard oil 1 drum w/paint oil 1 Keg with Coom 1 old ladle w/iron rist 1 Rat trap In Curing House 1 Barrels Madongo 1 Spud 1 wooden do—— 2 Sledges 3 Shovels 1 Trowel Hardwood rammer (rest incomplete) In Still House 24 Liquor Casks 2 Wooden Spouts 1 Iron Pump In Rum Cellar. 3 Rum puncheons 6 Cans 1 Copper Pump 1 Filter Bag 2 Gauging rods 1 do funnel In Molasses Cellar. 8 empty Moras: puns 9 pcs. NP planks 1/2 Pun Temper Lime 4 Butts 2 sheets galv. iron 5 Molasses pun: shells 1 Hrd. shell 1 wooden funnel In Corn Store. 1 corn chest 1/2 pun rock salt Shingles 1 Copper Teach 7 Padls. Shooks 4 Bndls. iron hoops. 24 Felloes Staves 4 do wood do. Lead Old Iron vc. In Stables 1 Hogskin Riding saddle 1 Cavalry saddle 2 Headstalls & bridle 2 Snaffle Poits 2 Curl Bits 1 Crupper 3 Halters 1 corn bucket. In Coopers Shop 6 empty Hhds: 4 Empty puns 1 Scte Hho: & Pun: triss. ——————— 1 Rain Gauge 1 Corn Crusher. List of Livestock. Horses-Mules- Oxen -Steers -Bull Calves- Bulls -Cows- Heifers -Cow calves. 2 10 7 10 8 1 8 6 4 1744-45: "Mrs. Shephard had Purchased Henry Osborne's estate and gives £10,500 for it, ye Crop on the ground and 30 negroes, a great purchase in these times." Vere Oliver Vol.III p.83 of British Slave-ownership claimants. www.ucl.ac.uk/lbs/. In 1833 Parliament finally abolished slavery in the British Caribbean, Mauritius and the Cape. The slave trade had been abolished in 1807 but it took another 26 years to effect the emancipation of the enslaved. The legislation of 1833 was the result of a combination of factors where it was felt that the plantation owners should be compensated for their slaves who were to be freed. The amount of 20 million pounds , a huge amount in those days, was divided up between all slave owners. John Watson Borradaile – awardee – absentee/resident? Antigua 340 (Yeamons) 463 1554 5s 5d (99 enslaved) The George White at Yeamans is Richard George White (1797-1854) is my great, great grandfather. I was sent a copy of a letter by Tim Anderson which referred to George being appointed temporary manager at Yeamans in 1851 and noted that he had been there before under Mr. Auchinlech the then owner. George Richard was the son of George William White who died in 1820. Around 1890/1895, the Yeamons buff house suffered a serious conflagration started from bags of charcoal stored under the house in the cellar that had not been cured properly. At the time George Goodwin was married to Annie Goodwin and they had three children, Willie, Frances Angelina (Gippie McDonald of High Point), Alfred (Affie). Annie succeeded in tossing her young children over the balcony to the courtyard below at the back of the house where the servants were able to catch them safely. She, however, was burned and when she jumped there was no one there to break her fall. She died shortly after in 1896 at the age of 37. George A. Goodwin then married Fannie Sutherland and begat Robin (later Colins) and Helen (taught at Antigua Girls High School) Goodwin. Yeamons was supposedly designed after the original home in Derrygiff, Ballenalach, Lietrum, Ireland. G.A. (Affie) Goodwin raised most of his family at Yeamons before moving over to Big Duer's. Rosemary Goodwin As a young man Jules Walters was an overseer at Yeamons c.1949. He also took over from Norris Abbott at Willis Freeman at the age of 20 and also did a stint at Lyons for a short time. That was also when `Black White ` Wesley Winter (brother to Dr. Luther Winter from Jamaica) was the attorney for Willis Freeman and worked at Burkes. Parts of Yeamans and La Roche were gambled on the old pay list. There was a stream that ran through Yeamans at La Roche or Rock Hill between Burkes and Willis Freemans where Jules used to catch crawfish which were quite plentiful. At one time there was a bridge over this stream. There were peasant cottages attached to Delaps known as the Mahico peasant cottages which were famous for smuggled liquor. It was here that on moonlight nights one would go to hear all the ghost stories from the area. They would also go there to play checkers and it was there that the Goodwin boys would go to have their sport. Behind Yeamans was a swamp (Rosemary Goodwin remembers Sandy Turner coming over to hunt duck and birds with her father in that swamp when they were at Yeamans} which was the birthplace of the Mahico Cricket Club. There was an interesting aside not related to Yeamons where Jules mentioned that Era Winter (Dr. Luther Winter's wife) who came from Canada was related to the Maroons from Jamaica who were dumped in Nova Scotia around 1790 and who became friendly with the Indians. Jules Walters. Further information can be found from the following: Cumbria Archive and Local Studies Center, Whitehaven 1845-1861 YDB 18/56/15 1836-1849 Ref.#YDB/18/66/10 1844 YDB 18/66/19 1873-1876 Ref.#YDB 18/66/4 1836-1849 YDB 18/66/14 1859-1866 Ref.#YDB 18/66/5 1844-1859 YDB 18/66/4 1861 Ref.#YDB 18/66/9 1859-1866 YDB/18/66/5
Enslaved People's History
Based on contemporary research, we have little information to share about the enslaved peoples from this plantation at this time. We do know that the estate contained 210 acres and 110 enslaved people in 1829, 43 of whom were liberated for the sum of 779 obs 13 s 7 d after slavery was abolished in the Caribbean. We will continue our quest for more information about these vital individuals.
Ownership Chronology
Ownership prior
Capt. John Yeamans (1661-1718)
1718: William Yeamans d.1753  
1750: Shute Shrimpton Yeamans   d. 1769
1779: William Hyslop of London & Thomas Greenough of Boston    121 slaves 
1829: Messrs. Ruckers  
1830: John Ogilvy   
1832:  Robert (1785-1848) & Henry Jefferson (1800-1877)  
1843: J. Wood & Bennett
1861: Messrs. Robert (1836-1902) & Henry Jefferson (1823-1896)    1872 Horsford Almanac–  38 acres in St. Paul's
1891: William Goodwin   (1830-1899)
1899: George James Goodwin (1861-1916)
1916: Fanny Goodwin (wife)   (1860-1827)
1921: George Alfred (Affie) Goodwin (1888-1947)
1947: Antigua Syndicate Estates, Ltd.
1968: Antigua Government – Crown Land