About
Type: Extant
Parish: St.Peter
Founding date: 1650
See on Google Maps!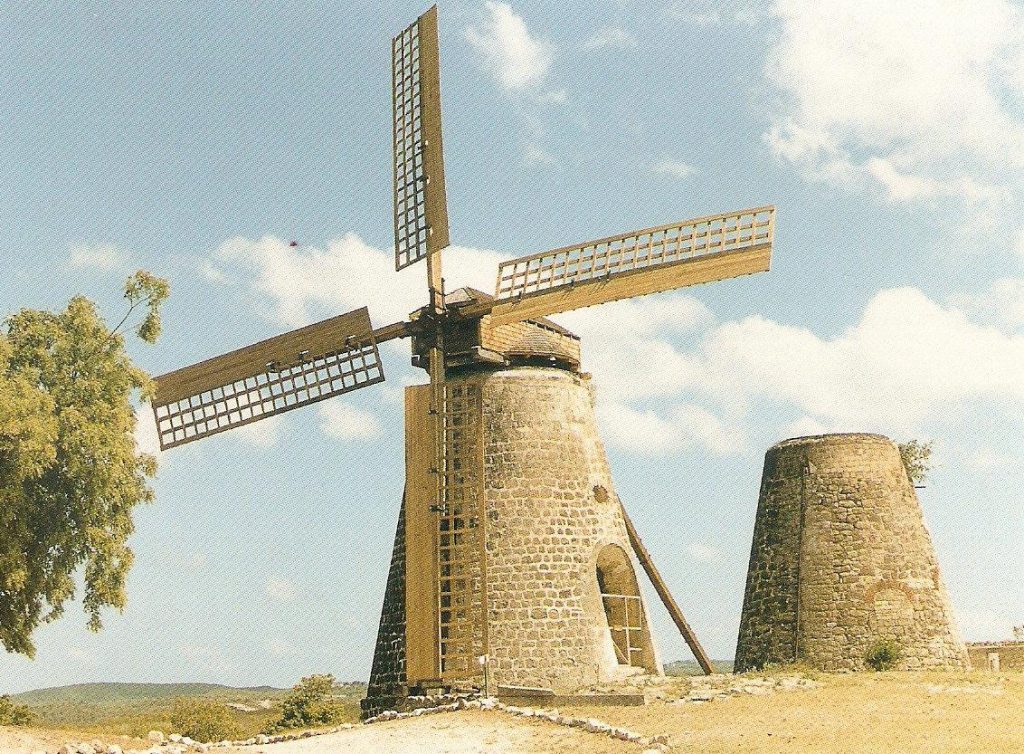 Current Status
Betty's Hope is known to be one of the largest and most successful estates on the island which remained under one family for most of its existence. The Codrington Papers were purchased by Bruce Rappaport for Antigua and the Archives built especially to house this great collection which comprises complete records of the estate.
There are two mills left standing side by side with many outbuildings and piles of stone in evidence scattered around the property. Carved in stone on mill No.1 (the old mill) "Built by Richard Buckley Anno Domini 1737" However it was probably modified then as it is known the mill was built in 1710.
With an average trade wind, such a mill could grind in a week, about 200 tons of cane to produce 5,500 gallons of syrup. This would have given 12 tons of sugar crystals. The sails would have revolved four times a minute or six to seven in a stiff breeze while driving the crushing rollers squeezed pulp (bagasse) was tossed out through the other opening to the right. The long narrow opening on the left (north) side was the exchange slit and was used for changing the long wooden vertical drive shaft when necessary.
Take note the fireplace high up inside. This gave light from a lantern or a fire for warmth and to see during night shifts. The "bosun" was in charge of the mill and the orders for starting and stopping the mill were "Turn her out" and "Turn her in."
The large Water Catchment has been restored with funding from Germany as well as one of the mills with the machinery being donated by Anthony and Ferdie Shoul of Thibou's Estate. The Betty's Hope Foundation is trying to restore it in its entirety. A small museum gives an overview of the history with a diorama of the estate and artifacts retrieved from continuing summer digs ongoing by The University of California.
Estate Related History/Timeline
1667: "1667 The 100 soldiers stationed at Col. Winthrop's pillaged his house as did another party that of Colonel Carden; and the island having been ransacked, as only the French know how best to do, De Cleodore set sail for St. Christopher". Treaty of Breda 21st July 1667.
1667-8: Lord Willoughby and others sailed from Barbados to reestablish the colonies in Antigua and Montserrat. Vere Oliver Vol.I p.xxxvii
Betty's Hope was Antigua's pioneer sugar plantation, founded about 1650 by Governor Keynell. His widow inherited the estate upon his death in 1663, but had to flee Antigua during the French occupation in 1666. When Antigua was re-occupied by the British, parliament annulled all land claims prior (of those who had fled or been disloyal to the Crown). Instead, in 1674, Bettys Hope was granted to the Codrington family then in Barbados. Lord Willoughby declared that 1689 acres was just too much land for her.
"Christopher Codrington II (1640-1698) of Barbados acquired a lease on Barbuda which was renewed in 1685. Sir William Codrington 1st Bart, inherited Dodington, Co. Gloucester, UK and Betty's Hope from his cousin Christopher Codrington III (d.1710)."
"All my wild bulls and oxen in Barbuda to be sold 100 yearly, no hammock or quilt to be sold there under 6 pounds apiece, and the turtle to be sold. All my sugar to be potted, twice strained, and twice clayed. All molasses to be made into rum. All ginger to be scalded and scraped as fast as dug." Will dated 1728, proved 1741. Vere Oliver Vol. I P.152
Under the Codrington ownership, lasting until 1944, Betty's Hope was soon transformed into one of the most efficient large-scale sugar estates in Antigua. From 1689 to 1704, two successive Christopher Codringtons served as Governors General of the Leeward Island, and later heirs continued to be among the most influential and prosperous planters throughout the colonial era. Like other large plantations, Betty's Hope was an agricultural as well as an industrial enterprise, and home to a large number of people. Supervised by a handful of European managers, hundreds of Africans lived out their lives first as slaves, then as labourers after Emancipation in 1834. Enduring the hardship of cultivating and processing the sugar under exhausting conditions, they developed great skills as craftsmen, boilers and distillers. Betty's Hope was the "Government House" during the period Christopher Codrington was Governor. Heritage Landmarks by Desmond V. Nicholson.
1710: Colonel Codrington died in Barbados and in 1716 his remains were exhumed, and conveyed to England, and buried in the chapel of All Souls,' Oxford. Four of his poems were published in the Musa Anglicanae, he founded a college, by bequest, in Barbados which still bears the name of "Codrington College."
1719-1792: Codrington, Sir William. Account book, 62 numbered double-page spreads ', entries for 'Island of Barbuda; 'Rum'; 'Sugar'; 'Samuel Redhead'; 'Publick of Antigua'; 'William Whitehad'; 'Voyage to Dublin'; 'Plantations'; and 'Sloop George'. M231 The Beinecke Collection
1775: Sir William Codrington Accounts – similar to above but also include 'Rob Jeffreson'; 'Nathaniel Gilbert dec'd.'; 'James Athill'; 'William Byam'; 'Samuel Byam'; and 'Sir Ralph Payne. M241 The Beinecke Collection.
1776: Letter to William Codrington about his estate, 1766 [D1610 C8b] "Antigua this year has I believe made as much sugar as it ever did since it was settled and your estates have made as much or more than they ever produced, the quantities made upon your estates have been 1285 hogsheads and 4 tierces of muscovado sugar and 61 hogsheads of clayed [probably a clay pot], in all 1245 hogsheads and 4 tierces of which 1206 hogsheads have been shipped Messrs Codrington and Miller on your account and the remainder paid to the customs house in account of the 4 1/2 % duty."
An Excerpt from The Sugar Barons by Mathew Parker gives an account as to the power the plantation owners in the West Indies had, to the exclusion of the sugar trade in the New World.
"By mid 18th century, most of the biggest sugar names had at least one family member in Parliament in Great Britain. Christopher Codrington's heir, Sir William, baronet, who had steadily been increasing his acreage in Antigua, was MP for Minehead until his death in 1738. His brother-in-law, Slingsby Bethell, managed the Codrington plantations in Antigua as a young man then moved to London to establish a sugar factorage business, acting as a commission agent for the Byams, Martins and Tomlinsons.
Indeed in 1785 it was estimated that more than 40 MP's who were "West Indians" were able to 'turn the balance on which side they please,' causing Benjamin Franklin to bemoan that in Britain, the West Indies vastly outweigh us of the Northern Colonies."
1825: "I ate a particular breakfast at Betty's Hope, which is a comfortable old rustic mansion with pillared gateway, fantastic trees and wild birds and beasts swarming about it. The house of Mr. Warner, the President of the Council, is a very finished affair; he is a descendant of the person of the same name, who was the chief colonizer of this and some of the neighbouring islands; the original grant by Charles I is framed and set over the door of his dining room."
1825: "Here also I became acquainted with a new dish of very attractive qualities in genere bellariorum; it is called Floating Island by the natives, because a certain dense and vinous mass of guava jelly is made to swim in guise of an islet upon a stagnant lake of cream and wine and sugar and citron."
"Six Months in the West Indies in 1825" by Henry Nelson Coleridge.
1829: this estate contained 1689 acres combined with Cotton and the Gardens.-314 slaves.
1851: The Antigua Almanac shows Betty's Hope, Cotton new work, Cotton old work and The Garden a total of 1680 acres and owned by Sir W.C. Codrington. Nicholas Nugent's son, the future Sir Oliver Nugent, spent his early married life at 'Betty's Hope,' an estate in the middle of the island owned by the Codrington family. In 1860 Sir Oliver acquired 'Millar's' estate. Nugents of Antigua.
1850: Oliver Nugent (d.1938) was born at Betty's Hope estate, Antigua on 28th February 1850, the second son of Sir Oliver and Lady Nugent. Oliver succeeded his father as Colonel in command of the Antigua Yeomanry Cavalry and was a churchwarden at St John's Cathedral. He was a founder member of the Antigua Cricket Club and also a prime mover in getting sugar production centralized at the Central Sugar Factory in Gunthorpes. Nugents in Antigua For instance, George Holborow, who represented the Codrington estates, did so from before 1872 (the earliest reference I found, although he could have been on the island many years before that) until his death in 1891, and was succeeded by his son Frank; Thomas Dickson Foote, who managed the Tudway estates, also held the post from before 1872 until he died in 1908 (at age 86), and was aided and then followed by his son John Freeland Foote. Both the elder men served on the Legislative Council: Holborow was there in 1872 and remained until 1897, while Foote was a member of the Assembly in 1843! Foote had turned the position over to his son by 1890, and the son continued to serve for another thirty years, most of that on the Executive Council as well. Foote was also a proprietor in his own right, but he never seems to have held on to any estate for very long: he bought Big Duers sometime after 1843 and Parrys through the court in 1869; he then sold Big Duers through the court in 1877. By the 1890s, he does not seem to have owned any estates. antiguahistory.net/upload
1881: Sir Gerald William Codrington. An Account Book for the Betty's Hope Crop 1881, Cotton Estate 1881, Narrows & Guano Island 1881 and Result of the Estimated Antigua Crop in 1881 through a combination of Estates. Beinecke M603
Edmund Hawkins Lake Sr., overseer/manager resided at Betty's Hope Estate in 1895. He originally managed Coconut Hall estate. He was married to Lillian Mowbray Donowa. He died in Antigua Aug. 16th, 1937. Letters from Yeamon's Estate.
1893: On the 16th May,1893, Maude Maginley married Frank Holborow who was the nephew of George Holborow who was the Attorney for the Codrington Estates. George Holborow (d..August 1891) was a member of the Legislative Council, a Commissioner of Roads and generally a person of considerable standing in Antigua. It is the Holborow family that appear on the steps in the photograph of Betty's Hope along with George L.G.C. Codrington, Edward Lovell and Lord Touche.
1938: The Lands of Antigua and Barbuda Sugar Factory Limited and the Antigua and Barbuda Syndicate Estates Limited (Vesting) Act. All that piece of parcel of land forming part of Betty's Hope and Comfort Hall Estates approximately 5.26 acres as contained in Certificate of Title No.141938 dated 11th April, 1938 and registered in Register Book 0 Folio 14. "New Works, Betty's Hope, Cotton Old Work and The Garden in St. Peter's Parish. In 1852, they contained 1689 acres and were owned by Sir W.C. Codrington, Bart, in whose family they still remain, after an uninterrupted possession of over 200 years. This is the finest estate on the island. There are enormous water tanks near the house, which during drought have sustained hundreds of people. The two old windmills stand side by side, but are not now used, steam power having superseded them. The late Hon. Mr. Holborough was for many years the very capable manager of this estate." Vere Oliver Vol.I p.175
Frank Holborow was attorney to the Codringtons and lived at Betty's Hope. The photograph showing the steps of the main house is of the Frank Holborow family. Frank Holborow and Maud Holborow (nee Maginley) with daughter May Holborow and son George Holborow. G.J. Holborow, Cornwall, England.
1912: The Manager at Betty's Hope was William Ledeatt
1922: William Coulls Ledeatt managed Betty's Hope until 1922 when the family moved to Tyrrells. In the memoires of Ella Ledeatt, she remembered moving day. "Teddy and I traveled from Betty's Hope with some of the furniture on the "extension" – a kind of trailer that hooked on to the back of the buggy."
1936: the Manager at Betty's Hope was J.A. Gore
1940: Ella Ledeatt later married Chris Weise and returned with her husband to manage Betty's Hope in the early 40's before taking on the management of Montpelier. The Great House had burnt to the ground around 1940 and they resided in the Manager's house, the ruins of which are still visible to the north of the compound. As a child around the age of 5-6 I remember going to visit with the family whose daughter Frances Anne was of a similar age. There are several old headstones of the Ledeatt family in the All Saints Anglican Church yard. Agnes Meeker (nee Watson)
1941: Antigua Sugar Factory, Ltd. Cane Returns for 1941 Crop. Codrington (Estates). Estimated 8737 tons, 478 acres estate, 40 acres peasants on the estate, tons of cane delivered 7552 at 15.18 tons per acre.
1944: Sir Christopher Codrington sold Betty's Hope to Antigua Syndicate Estates, Ltd.
Within recent times (1986) some of the stones from the boiling house and outbuildings were unfortunately removed and used to repair the Church at Glanvilles. Another case of robbing Peter to pay Paul.
1944: the Codrington estates were appraised at £49,006 as per Syndicate Estates.
1945: W.J. McSevney was the Superintendent for Group B of the Syndicate Estates which included Diamond (#87), Mercer's Creek (#78), Betty's Hope Delap's (#137) and Cotton (#77b). In 1952 C.F.Lake was moved from Betty's Hope to Gilbert's and F.H. Francis was moved from Fitche's Creek to Betty's Hope. The Overseer at that time was Frank Walters.
1947: According to the Syndicate minutes, the Great House contained approximately 2000 good building stones which could be sold to the vestry at St. George's for building its rectory (in the village of New Winthrop's). $1 per doz. Was reasonable if the purchaser met the cost of transportation. There were also offers from Dr. & Mrs. Woodman and R.C. priest who were offered the bricks from the chimney of the cottage.
1952: the Manager for Tudways was William H. Odlum and the Overseer was Alfred Mathews.
1969: The Lands of Antigua & Barbuda Sugar Factory Limited and The Antigua & Barbuda Syndicate Estates Limited (Vesting) Act. 30th December, 1969.
All that piece or parcel of land forming part of Betty's Hope and Comfort Hall Estates approximately 5.26 acres as contained in Certificate of Title No.1411938 dated 11th April, 1938 and registered in Register Book O Folio 14.
All that piece or parcel of land forming part of Codrington, approximately 1315.035 acres as contained in Certificate of Title No.4011945 dated 27th September, 1945 and registered in Register book Q Folio 142.
1990: The Friends of Betty's Hope became the Betty's Hope Trust.
2013: over the last five years Georgia Fox and her archeological team of students from California have been coming during the summer months to excavate the Betty's Hope Great House. They have unearthed the ground floor and original footprint of the building discovering an assortment of finds from lead soldiers and buttons to coins. Dr. Reg Murphy hopes to start work on the slave village in the near future. Four locomotives from the Sugar Factory days are being renovated and will be displayed at Betty's Hope north of the water catchment. Also planned for the future is a cemetery to preserve old gravestones scattered around the island that are in danger from the ubiquitous backhoe and development. The Betty's Hope Trust works with visiting schools of archaeology during the summer, to complete research on the estate.
The Gloucestershire Archives, UK, can be contacted for further information on the Codrington family, Doddington Hall & their UK Holdings. www.gloucestershire.gov.uk/archives Papers pertaining to Betty's Hope and the Codrington family can be accessed through the National Archives of Antigua & Barbuda
Legacies of British Slave-owners: Antigua 334 Betty's Hope was awarded £4920 9 s 10 d for 299 enslaved. The only awardee was Sir Christopher Bethell-Codrington Bart.
In 1833 Parliament finally abolished slavery in the British Caribbean, Mauritius and the Cape. The slave trade had been abolished in 1807 but it took another 26 years to effect the emancipation of the enslaved. The legislation of 1833 was the result of a combination of factors where it was felt that the plantation owners should be compensated for their slaves who were to be freed. The amount of 20 million pounds , a huge amount in those days, was divided up between all slave owners.
Sir Christopher Bethel-Codrington Bart – absentee/resident – owner-in-fee – Antigua 334 (Betty's Hope. St Peters) view -460 4920 9s 10d (299 enslaved). Sir Christopher Bethel-Codrington Bart – Antigua 329(New Work. St Peters) view – 457 2468 10s 2d (169 enslaved). Sir Christopher Bethel-Codrington Bart – Antigua 558 (Barbuda a dependency of Antigua) view – 535 6286 18s 11d (492 enslaved).
See also Cotton Garden.
Enslaved People's History
Based on contemporary research, we have little information to share about the enslaved peoples from this plantation at this time. We only know that the estate contained 1689 acres combined with Cotton and the Gardens in 1829, and they together had 314 enslaved people. Later, the Hope was awarded £4920 9 s 10 d for the liberation of 299 enslaved people by the British government after the abolishment of slavery. We will continue our quest for more information about these vital individuals.
Ownership Chronology
Ownership from 1650 Governor C. Keynell d.1663
1674: Col.Christopher Codrington II (1640-1698)
1676: Ensign John Hall purchased half of Betty's Hope (362 1/2 acres) of Maj. Thomas Malet
1680: Joan Hall (Keynell) widow of Governor Christopher Keynell later md. John Hall
1698: Christopher Codrington III 1668-1710    Gov. General of the Leeward Is
1710: Sir William Codrington 1st Bart d.1738
1738: Sir William Codrington 2nd Bart (1719-1792)
1780: Sir William Codrington 3rd Bart d.1816
1788: Col. Valentine Morris  (might have leased)
1790: Sir Christopher Bethel Codrington IV (1728-1759)     1777/78 Luffman map
1815: Sir William Christopher Codrington b.1805
1829: Sir Bethel Codrington   
1843: Sir Christopher Bethel-Codrington 
1871:  Sir William Codrington     1872 Horsford Almanac     Steam Works
1891: Sir W. C. Codrington Bart
1921: Sir C.V.H. Codrington            1933 Camacho map
1944: Antigua Syndicate Estates, Ltd.
1968: Antigua Government – Crown Land
1987/89: A committee was set up to conserve part of the Betty's Hope Estate known as the Betty's Hope Trust.