About
Type: Extant
Parish: St.George
Founding date: 1990
See on Google Maps!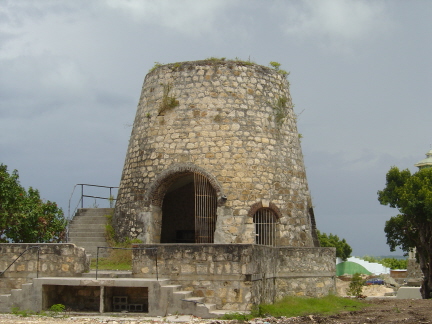 Current Status:
The mill on this site is in excellent condition and was used as part of the Sugar Mill Hotel as a cocktail bar when up and running. The area was purchased by R. Allen Stanford and everything on the site, but the mill, was bulldozed. As with most of the estates, Date Hill was also built on a hill and overlooked Nibb's, High Point, and Winthorpes estates and all of the offshore islands. A spectacular view particularly watching the weather roll in which tends to come from the north east.
In its Prime, this estate also raised ground provisions.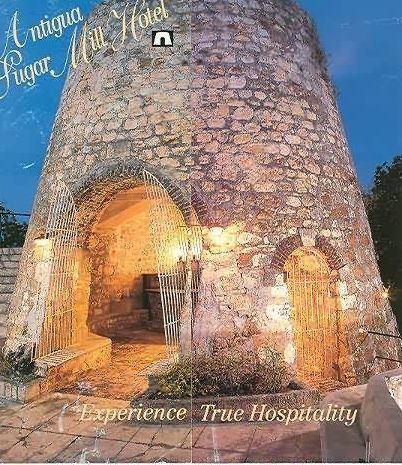 Estate History/Timeline
Thomas Sheppard or Shepherd, formerly owned land in Pennsylvania as well as Date Hill in Antigua. Lydia Byam (1768-1856) of Cedar Valley Plantation was the granddaughter of Thomas Sheppard; a Quaker, which explains Lydia's wide education and interests. Gay Byam inherited Lydia Byam's diary which she wrote between 18-19 years old while she lived with her parents at Cedar Hill. Date Hill was one of the plantations that she often visited and in the diary gave a wonderful description of the property with its view overlooking the North Shore Islands – Long Island and Maiden Island in particular.

Excerpt from a letter to Mrs. Sutton from her cousin Ann Byam July 8th, 1828: "I have agreeably to your desire held a long conversation with my friend Sarah Freeman concerning the people at Date Hill, who were all disposed of separately from the Land and Buildings on the estate, except Margaret, who would not quit her home and property and being advanced in years they consented to her remaining there. Mrs. Kentish purchased one of her daughters and child and is very fond of them and takes a great deal of notice of Margaret who is frequently on a visit to them. Tho I mean by Mrs. Kentish. She was Octavia Wyke and one of her daughters lately married to a Doctor Anderson of the Island of Trinidad."

1829: This estate contained 132 acres, slaves were shared with nearby estate.
"My master and mistress went on one occasion into the country, to Date Hill, for change of air, and carried me with them to take charge of the children, and to do the work of the house. While I was in the country, I saw how the field negroes are worked in Antigua. They are worked very hard and fed but scantily. They are called out to work before daybreak, and come home after dark; and then each has to heave his bundle of grass for the cattle in the pen. Then, on Sunday morning, each slave has to go out and gather a large bundle of grass; and, when they bring it home, they have all to sit at the manager's door and wait till he come out: often have they to wait there till past eleven o'clock, without any breakfast. After that, those that have yams or potatoes, or firewood to sell, hasten to market to buy a dog's worth [10] of salt fish, or pork, which is a great treat for them. Some of them buy a little pickle out of the shad barrels, which they call sauce, to season their yams and Indian corn. It is very wrong, I know, to work on Sunday or go to market; but will not God call the Buckra men to answer for this on the great day of judgment—since they will give the slaves no other day? While we were at Date Hill Christmas came; and the slave woman who had the care of the place (which then belonged to Mr. Roberts the marshal), asked me to go with her to her husband's house, to a Methodist meeting for prayer, at a plantation called Winthorp's. I went; and they were the first prayers I ever understood. One woman prayed; and then they all sung a hymn; then there was another prayer and another hymn; and then they all spoke by turns of their own griefs as sinners. The husband of the woman I went with was a black driver. His name was Henry. He confessed that he had treated the slaves very cruelly; but said that he was compelled to obey the orders of his master. He prayed them all to forgive him, and he prayed that God would forgive him. He said it was a horrid thing for a ranger to have sometimes to beat his own wife or sister; but he must do so if ordered by his master. Excerpt from The History of Mary Prince.
1824: A notice appears of the partnership between Dudley Semper and Charles Robertson is dissolved both in Montserrat and Antigua under the firm of Charles Robertson & Co. "All persons having any demands against either of the said firms are requested to render their accounts to the said Charles Robertson, who has assumed to settle and pay the same."

Equitable Mortgage: Slaves, being real estate, do not pass as under the order and disposition of the bankrupt, and may be the subject of an equitable mortgage. 1834: "The bankrupts carried on business as West India merchants, previous to November 1831; and on the 5th of August in the same year, the petitioners lends them £1,000 and also accepted accommodation bills for £4,000; and as a security the deeds of a plantation in Antigua, and the slaves thereon were deposited with them, by way of equitable mortgage, accompanied by the following memorandum: "Dear Sirs, In consideration of your having accepted our three several drafts upon you for £1,000, £1,000 and £2,000 dated this day, at one month, to our own order, due 5th and 8th of September, and at the same time of your having lent us in cash the sum of £1,000, we hereby deposit and pledge with you the conveyance to us, for a valuable consideration, of the plantation called Yeaman's, in the island of Antigua, together with the slaves thereon, and premises. Executed by C. Robertson, and Eliza his wife, on 10th of July 1827, and recorded in the same day. Charles Robertson shows up in the Slave Register 1813-1814." There is also a mention that Phillip Lyne had sold 146 enslaved people to Charles Robertson by 1821.

1851: Antigua Almanac shows Date Hill of 122 acres belonging to Heirs of Chas. Robertson. 1941: Antigua Sugar Factory, Ltd. Cane Returns for 1941 Crop. Winthorpe's & Date Hill. Estimated 953 tons, 70 acres estate, 3 acres peasant land on the estate, tons of cane delivered 738 at 10.25 tons per acre.

1986: Brian Gonsalves owned and operated the Sugar Mill Hotel.

2002: Brian Gonsalves was the Director of Internal Security in Antigua, when the Muhammad/Malvo shooting took place in Alabama and it was discovered there was a connection to Antigua where the two may have met.. R. Allen Stanford b.1950. Serving 110 years in a jail in Texas for fraud in a massive Ponzi scheme, had developed the area around the airport terminal and had recently purchased the Date Hill site across the road from the airport. Time did not allow for development.
Enslaved People's History
Based on contemporary research, we have little information to share about the enslaved peoples from this plantation at this time. We only know that, in 1829, this estate contained 132 acres, and its enslaved workers were shared with nearby estate. We also have an excerpt from the point of view of a slave on the plantation quoted above under Estate History. We will continue our quest for more information about these vital individuals.
Ownership Chronology
1780 Samuel Byam d.1785 md. Elizabeth, dtr. of Thomas Shepherd.
1790 Heirs of Samuel Byam – 1777/78 Luffman map
1839 C. Robertson. (leased to Samuel Martin)
1843 Charles Robertson – b. 1811c.
1851 Heirs of Charles Robertson
1872 Thomas Jarvis 1872 – Horsford Almanac
1878 Heirs of Francis Jarvis
1933 J. Gomes
1986 Brian Gonsalves
1970's Sugar Mill Hotel
2006 R. Allen Stanford