About
Type: Extant
Parish: St.Philip
Founding date: 1667
See on Google Maps!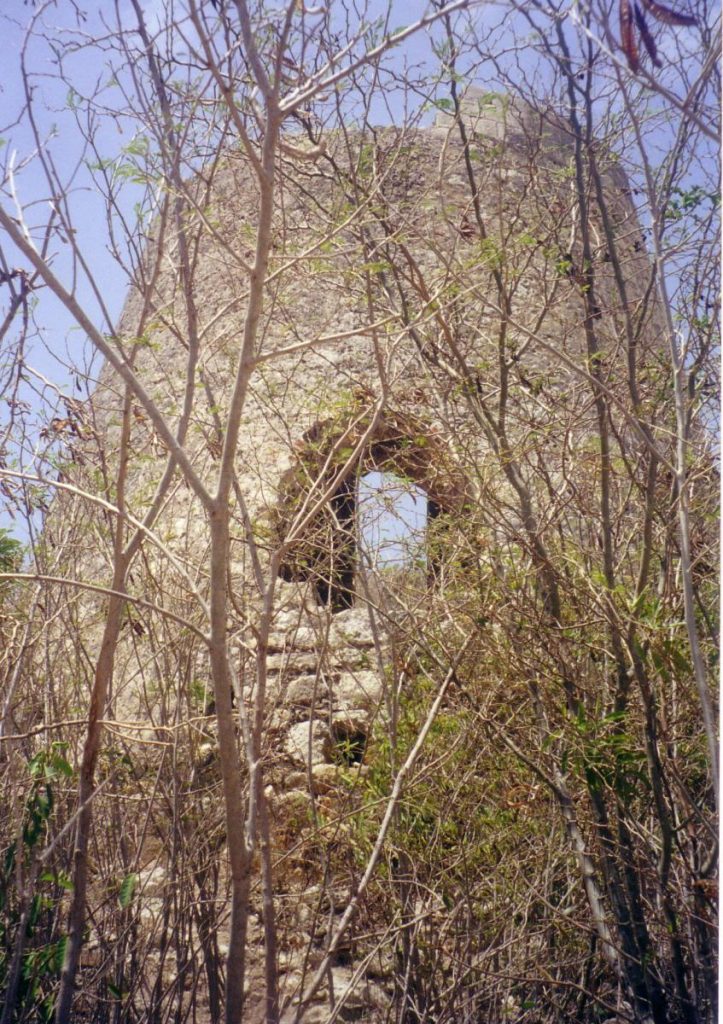 Current Status:
The mill still exists as recorded in 2014 and is in good condition in spite of being in the bush.   Elmes (often referred to Elmes Creek or the Creek) and Goble's made up part of Gaynor's estate where all sugar was processed when Gaynor's converted to steam in the mid 1800's.
Estate Related History/ Timeline:
"March 4 1667 Thomas Elmes granted 65 acres, surveyed 5 June 1668" …. "1755 Dec.4th Death of Thos Elmes; his seat in the Assembly vacant."
Dorothy Anne Elmes was born in Antigua on May 3, 1768, the daughter of Thomas Elmes III (d.1776) and Elizabeth Harmon. Both were descendants of 17th century British settlers. Dorothy married (2nd) Henry Papps, a naval functionary, in Antigua, and later moved to England where Dorothy died in 1831.
"Mathew Christian (d.1779) heir to uncle Mathew (d.1758) Red Hill 410 acres, Bevans 200 acres, The Valley 350 acres, Huyghues of 200 acres, Elmes of 149 and 180 acres
Elmes Creek Estate of 158 acres and Windward 180 acres owned by Mathew Christian in 1775.
History of the Island of Antigua by Vere Oliver. Vol.1 & III.
1779 the Elmes in the Division of Nonsuch and Parish of St. Philip contained 149 acres.
There is little on Ledwell and Scott but I did find reference under 'Promissory Notes and Bills of Exchange' a rather lengthy discourse between Rofs and Butler and Cumberland Wilson dated late 1770's.
In 1829 it contained 158 acres and 106 slaves and was owned by Philip Layne.
The Indenture between Francis John Goodwin of Gaynor's and Antigua Syndicate Estates Ltd. dated 6th September 1957, shows "3. All that plantation or estate called "Elmes Creek" situate in the Parish of Saint Philip in the Island of Antigua containing one hundred and sixty-one acres or thereabouts."
Legacies of British Slave-ownership. www.ucl.ac.uk/lbs/search/
Antigua 275 Elmes was awarded £1,500 11s 2d for 103 enslaved.
Awardee was Named Newman. Beneficiary deceased were Justinian Casamajor and Mathew Christian. Beneficiaries were Mark Noble Daniel, Sarah Daniel, George Harper, James Smith and Mary Smith. Unsuccessful were Philip Lyne and John Adams Wood.
1851: The Antigua Almanac shows Elme's of 158 acres belonging to Phillip Lyne.
"Elmes" is in St. Philip's Parish. In 1852 it contained 158 acres, and was owned by Philip Layne." Vere Oliver Vol.I p.244
According to Myson James from Parham, Elmes used to be called 'Bunting.'
Enslaved People's History
Based on contemporary research, we have little information to share about the enslaved peoples from this plantation at this time. We do know that the estate was awarded just over £1,500 for the freedoms of 103 enslaved people when slavery was abolished in the Caribbean. We will continue our quest for more information about these vital individuals.
Ownership Chronology
1740 Mathew Christian (d.1758)
1758 Mathew Christian (d.1779) 1777/78 Luffman map
1779 Ledwell & Scott
1829 Messrs. Hyndman. 106 slaves. 158 acres.
1852 Philip Layne (Lyne) 1851 Antigua Horsford Almanac
1871 Francis Shand ( ownership listed in Vere Oliver)
1873 William Goodwin (1830-1899) not listed in the 1872 Antigua Horsford Almanac.
1921 Frank J. Goodwin (1881-1966) 1933 Camacho map
1957 Antigua Syndicate Estates Ltd.
1958 Antigua Government – Crown Land