About
Type: Extant
Parish: St.Philip
Founding date: 1668
See on Google Maps!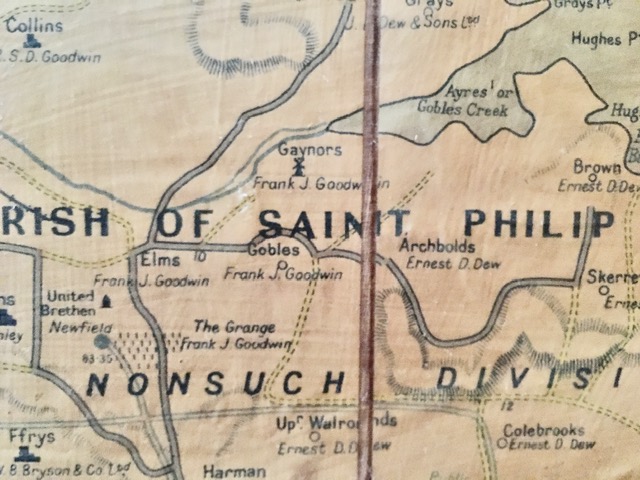 Current Status
There is a mill at this site which is completely covered in bush and not readily accessible.
Estate Related History/ Timeline:
Nearby Elms, Retreat and Gobles made up part of the Gaynor's estate when owned by the Goodwin's latterly. Canes for this and surrounding estates were processed prior to the advent of the Antigua Sugar Factory, at Gaynor's which had converted to steam.
Ayers is an estate that, over the years, has been bought out by surrounding estates and the name has changed. Ayres or Goble's Creek is near Gaynor's at the foot of Nonsuch Bay. Col R. Ayers was also granted 33 acres in the Bermudian Valley in 1667. On an early Herman Moll map, Ayers is shown just south of Rooms estate in the Parish of St. Philip's. At one point in time Green Island is shown as belonging to Ayres by a grant of Governor Rowland Williams 1675.
Col. Richard Ayres planter, settled Antigua before 1667. Granted 40 acres at Nonsuch 1668. He also had Benjamin Ayres 1724 Will 1739. William Steel Ayres (son). Captain Richard Ayres patent for 158 1/2 acres 1668.
Stephen Lynch came of an ancient Galway family settled in Montserrat before 1712 and at Antigua before 1707.
1725: "Indenture dated 25 April 1725 between John Goble of Antigua, planter, and Elizabeth his wife and Joshua Archbold, surgeon. Sale of 10 acres." Vere Oliver V.I p.8
1735: "Anthony Lynch, planter Will 1735. Stephen Lynch of "Goble's" & "Skerret's" "The Lynches of Antigua are from Galway." Vere Oliver Vol.II p.205
1736: "John Goble purchased 145 acres in St. Philip's Parish before 1724. Will dated 20 July, 1736." Vere Oliver Vol.II p.21
1771: June 25. Lynch Esq., near Epson. His will as of Ashted, co. Surrey was dated 10 July 1769 and p. 2nd Antigua. He owned two plantations in Antigua. Married thrice and left three sons, John, Edward and Stephen.
1792: "William Harman of Montpelier and Goble's (1792-1823)"
Below is an example of how the ownership of an estate could become extremely complicated when willed to every relative in site each claiming a part of the whole.
1820: "Formerly the estate of Stephen Lynch, and for some time in the occupation of Lawrence Nikell the younger ….. for one whole year. "in the plantation called Gobles with the slaves, etc., ie. Lawrence Nikell the elder is seised of one undivided 3rd part, or light 24th part shares, Lawrence Nikell the younger of one undivided 3rd part, and also one undivided 24th part, or nine 24th part shares, and Robert Niehill is seised of four undivided 24th parts and Edward Niehell, Catherine Niehill and Alice Niehell each of one undivided 24th part …. and the said several parties claim to be entitled by descent, representation, devise and bequest respectively, or otherwise from Anne Trant, ….." History of the Island of Antigua by Vere Oliver Vol.II p.303
1829: this Estate contained 210 acres and shared with Montpelier (75 acres) 212 slaves.
1851: The Antigua Almanac shows Goble's of 210 acres belonging to Thomas R. Jones who might have been a Reverend with the Methodist Church around 1830.
1872: An example of a newly arrived family that benefited from act was the Maginleys. Two brothers, John and Robert, arrived from Ireland sometime between 1852 and 1872—they are not listed as owning estates in the 1852 almanac, but are 1872. The story is that they came as apprentice planters, or managers, but quickly set about acquiring estates of their own. Using both the court and private sales, they had, by 1878, accumulated almost 4,500 acres and together were the largest owners in Antigua. Their estates (Comfort Hall, Gilbert's, Long Lane , Lavington's, Lyon's, WIllis Freeman's, and Burke's) were primarily in the fertile southeast. By 1891—again using the court—these had been supplemented by Cedar Hill and Sandersons, for a total of nine estates. John served on the Legislative Council for twenty years, as well as on a number of public boards, and was a leading member of the plantocracy. antiguahistory.net/upload
William Goodwin arrived from Drumaldry, County Leitrim, Ireland, (the same area that the Maginley's and Abbotts came from) in Antigua in 1848 at the age of 18 years old. He started life as an overseer at Rooms estate, by steady plodding and saving he attained the position he held at his death, 14th April 1899. At the time of his death he owned considerable property consisting of Collins (including Elliott's, Collins, Elme's Creek , Gaynor's, Buntin's (this name comes up again with 'Myson' James which he claimed was Elm's) and Wykhams(#), Big Duer's and Yeamon's.
1899: Gobles became known as part of the Gaynor's estate.
Enslaved People's History
Based on contemporary research, we have little information to share about the enslaved peoples from this plantation at this time. We do know that there were 212 enslaved people working at this estate just before slavery was abolished in the Caribbean. We will continue our quest for more information about these vital individuals.
Ownership Chronology