About
Type: Extant
Parish: St.Philip
Founding date: 1743
See on Google Maps!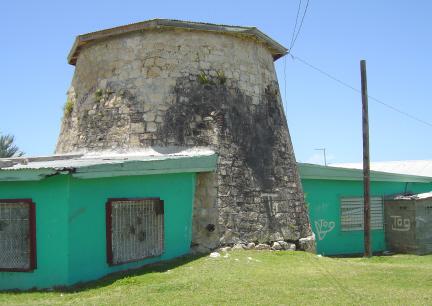 Current Status
This estate converted from wind to steam and was once known as Thomas's or Crumps.
This mill is a prime example of what 'not to do' when restoring in or around a sugar mill.   The Boys Training School was built around and attached to this historical structure, totally destroying the historical value.   It is still the Boys Training School for troubled boys to day.
The estate house has been left to the elements and is almost totally destroyed though could still have been rescued in the mid 1990's.   Many out structures still exist which give a good picture of how an estate was laid out.   The chimney still stands tall.

Estate Related History/ Timeline:
1803:  "In 1803 Sir George Thomas sold his plantation and slaves in Belfast Division St. Phillip's Parish, for 22,000 pounds to Thomas and Andrew Edwards."  Vere Oliver Vol.I p.231
'Crumps' of 514 acres now known as Comfort Hall.  Vere Oliver Vol.I p.185

1829: this plantation contained 514 acres and 168 slaves.

In 1829 Thibou's contained with Blizard's contained 830 acres and included Long Island and Bird Island.   319 slaves were registered.
In 1829 Burke's contained 374 acres and 170 slaves.

1851: The Antigua Almanac shows Comfort Hall of 514 acres belonging to Heirs of T.S. Edwards.

1852 :contained 514 acres to heirs of T.S. Edwards.

1895 when James Maginley died he was a very wealthy man who owned Glebe House in Killukin, Ireland along with several plantations on the island of Antigua.   Burke's, Cedar Hill, Sanderson's ,Long Lane, Comfort Hall, Lavington's, Ffrey's.   James Maginley had two daughters Annie Letitia (Holbrow) and Isabella Maud (Thomas) and one son John William Arthur.   On his death while residing at Burke's estate, his properties and wealth in Antigua were divided among his three children, but his Killukin House and lands were left to his son.  
History of The Glebe House, Killukin, Ireland.

In 1921 it was registered with 502 acres.

1872: An example of a newly arrived family that benefited from act was the Maginley's. Two brothers, John and Robert, arrived from Ireland sometime between 1852 and 1872—they are not listed as owning estates in the 1852 almanac, but are 1872. The story is that they came as apprentice planters, or managers, but quickly set about acquiring
estates of their own. Using both the court and private sales, they had, by 1878, accumulated almost 4,500 acres and together were the largest owners in Antigua. Their estates (Comfort Hall, Gilbert's, Long Lane, Lavington, Lyons, Willis Freemans, and Burkes/LaRoche/Table Hill) were primarily in the fertile southeast.

1891:again using the court—these had been supplemented by Cedar Hill and Sanderson's, for a total of nine estates. John served on the Legislative Council for twenty years, as well as on a number of public boards, and was a leading member of the plantocracy.   In 1921 consisted of 1091 acres.

1941: Antigua Sugar Factory Ltd Cane Returns for 1941 Crop.   Comfort Hall.  Estimated 3109 tons, 103 acres estate, 100 acres peasants on the estate, tons of cane delivered 2070 at 13.38 tons per acre. antiguahistory.net/uploand

1943: August 1st Gunthorpes Estates Ltd. was restructured (see #64 Gunthorpes) into a 'new' company renamed Antigua Syndicate Estates Ltd. 

1947: Antigua Syndicate Estates acquired the Dews estates which were Gilbert's, Pares, Comfort Hall  and Creek Side with all live and dead stock including machinery for L47,000.

1949: The Land Settlement Board needed to acquire acreage for the settlement of Peasants.   After reaping the crop for 1949, the Antigua Syndicate Estates made the land available for a total of $31,000 which was actually settled for $25,000.   Land on Comfort Hall, along with Lambert's Mayer's, Gilbert's and Glanville's were made available.

1940's Mr. Edwards of Freetown remembers Mr. Edwin Lake as Manager.

1955: The Syndicate Estates divided management of their estates into three Groups, A,B and C over which a superintendent was appointed.   Comfort Hall fell into Group B under E.G. Derrick and included Tudways (#76), Diamond, Gilbert's and Betty's Hope for a total acreage of 857.0.

1960's: "In the early 1960's when my uncle Richie Mason lived at Comfort Hall, I remember horse racing taking place on a track nearby at Easter time."   Margaret White.    (This could have been at Glanvilles which Selvyn Walter mentions)

1969: The Lands of Antigua & Barbuda Sugar Factory Limited and The Antigua & Barbuda Syndicate Estates Limited (Vesting) Act.   30th December 1969.
3. All that piece or parcel of land forming part of Betty's Hope and Comfort Hall Estates approximately 5.26 acres as contained in Certificate of Title No.1411938 dated 11th April, 1938 and registered in Register Book O Folio 14.
20.All that piece or parcel of land forming part of Comfort Hall approximately 305.324  acres as contained in Certificate of Title No.1811947 dated 16th April, 1947 and registered in Register Book R Folio 54.
Enslaved People's History
Based on contemporary research, we have little information to share about the enslaved peoples from this plantation at this time. We receive information in this excerpt about numbers of enslaved peoples at other plantations, but hardly anything explicitly for Comfort Hall is provided. We do learn that Comfort Hall was awarded £2,468 11 s 2 d for the liberation of 172 enslaved people when slavery was abolished in the Caribbean. We will continue our quest for more information about these vital individuals.

Legacies of British Slave-ownership:  
Comfort Hall was awarded £2,468 11s 2d for 172 enslaved.   Thomas Spencer Edwards was awardee.

Ownership Chronology
1750 Walter Sydserf
1790 Sir George Edwards
1803 Thomas S. Edwards & Andrew Edwards
1829 Thomas S. Edwards 514 acres and 168 slaves.
1851 Heirs of T.S. Edwards – 514 acres. 1851 Antigua Almanac.
1871 Geo. W. McDonald – 517 acres. 1878 Antigua Horsford Almanac.
1872-1888 James Maginley (d.1895)
1921 J.T. Dew et al.
1933 J. Dew & Sons Ltd. 1933 Camacho map
1947 Antigua Syndicate Estates Ltd.
1958 Antigua Government – Crown Land