About
Type: Extant
Parish: St.Peter
Founding date: 1750
See on Google Maps!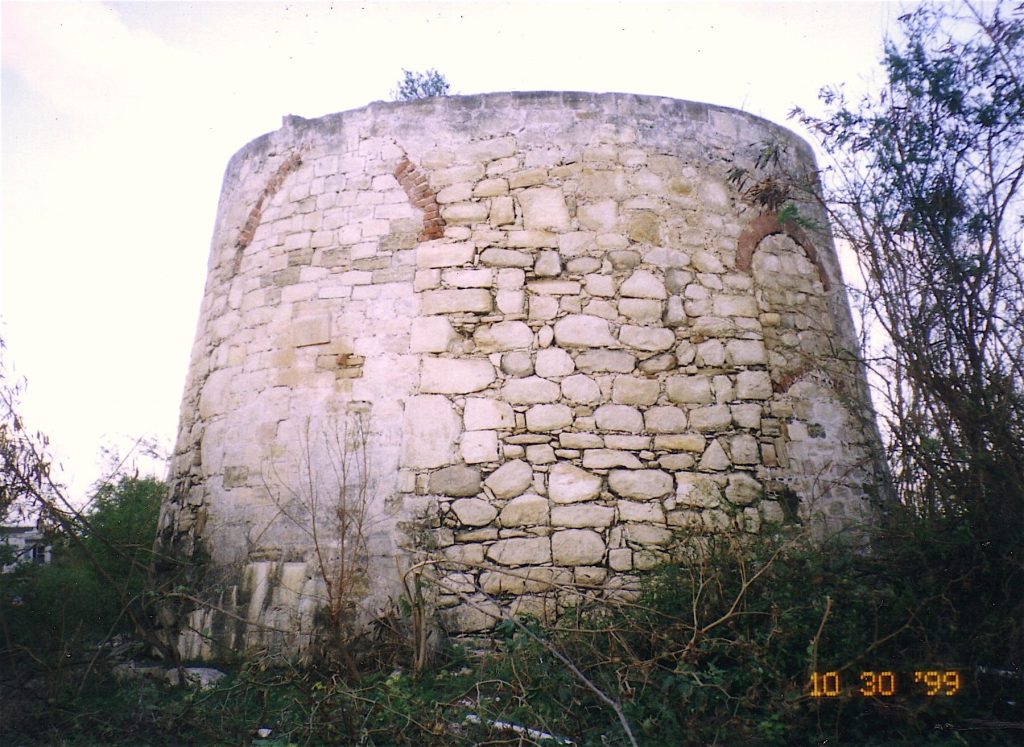 Current Status
The chimney nearby indicates that this estate converted to steam. The mill has been turned into a cistern and cut short in the process. The mill bears a stone above one of the arches that reads "G.R.M. 1885 AD" initials belonging to one of the Maginley owners. Gilbert's was included with nearby Mercer's Creek when the British Legacies of Slave-ownership were paid out which is surprising because none of the ownership names seem to tie in. The old estate house fell into disrepair and the present structure was built upon old foundations. However the stone steps at the back of the house leading to a paved courtyard are the original steps from which Nathaniel Gilbert preached to his slaves. It is now the Gilbert's Agricultural and Rural Development Center (GARD) . Various courses are offered to empower entrepreneurship such as soap and candle making, glass beads, weaving and animal husbandry.
Across the road on a deserted hill known as Zion Hill is Gilbert's Memorial chapel, a beautiful small building with buttresses. It is still used for Sunday service as is the nearby burial ground, and is a favourite site for small weddings. One stone located at the base of the pulpit bears the date 1760 which was taken from the steps at Gilbert's estate that Nathaniel Gilbert used to preach to his slaves from. The stone above the communion table also comes from these steps and has a cross along with Gilbert's initials (NG) inscribed in it. Further information can be had from the Methodistchurchantigua.org site.
Estate Related History/Timeline
1760: Nathaniel Gilbert, Speaker of the House of Assembly in Antigua, was instrumental in bringing  Methodism into Antigua and the West Indies in 1760 after being introduced to the teachings of John Wesley in England by his brother.   He instructed the negroes and others and on his death in 1774 the negroes he had taught kept the religion alive for many years before a Minister was sent out from England.   Three of his slaves, Mary, Sophia Campbell and Bessie Alley, along with his brother Francis, his wife and children's governess Mary Leadbetter, kept Methodism alive in Antigua until help arrived.   The Wesleyan Memorial Monument is at the foot of St John's on —– street.  Nathaniel Gilbert is believed to be buried at Vernons cemetery, St. Peter's Parish, but there is no headstone to mark the grave. 
"The Hurricane" written by William Gilbert, Nathaniel's son, was recently reprinted in 1990 and is a theosophical and western eclogue 450 blank line poem set in the island of Antigua where Gilbert was born into a planter family in 1763.
The representative of Mrs. Grace Webb deceased to Rev. Nathaniel Gilbert. Deed
for releasing Mrs. Gilbert's estate in the island of Antigua from all arrears of interest hitherto accrued on a certain legacy or sum of £1,000 charged thereon. M514 The Beinecke Collection
In 1829, Gilbert's contained 313 acres – 158 slaves. In 1921- 320 acres.
1848: Rev. Nathaniel Gilbert – mortgage of Gilbert's Mangrove, Richmond's, Chapman's and Howard Estates to John Bate Cardale.   John Sliffe and Jamaica Ward Russell.   M579 The Beinecke Collection
1851:  Antigua Almanac shows Gilbert's of 313 acres belonging to Mrs. N. Gilbert.
1872:  An example of a newly arrived family that benefited from act was the Maginleys. Two brothers, John and Robert, arrived from Ireland sometime between 1852 and 1872—they are not listed as owning estates in the 1852 almanac, but are 1872. The story is that they came as apprentice planters, or managers, but quickly set about acquiring estates of their own. Using both the court and private sales, they had, by 1878, accumulated almost 4,500 acres and together were the largest owners in Antigua. Their estates (Comfort Hall, Gilbert's, Long Lane, Lavington, Lyon's, Willis Freeman's, and Burke's/LaRoche/Table Hill) were primarily in the fertile southeast. By 1891—again using the court—these had been supplemented by Cedar Hill and Sanderson's, for a total of nine estates. John served on the Legislative Council for twenty years, as well as on a number of public boards, and was a leading member of the plantocracy. 
1941: Antigua Sugar Factory, Ltd. Cane Returns for 1941 Crop.   Gilbert's.    Estimated 2373 tons, 130 acres estate, 30 acres peasants on the estate, tons of cane delivered 1927 at 12.31 tons per acre.   antiguahistory.net
1943: August 1st: Gunthorpes Estates, Ltd. was restructured (see #64 Gunthorpes) into a 'new' company renamed Antigua Syndicate Estates, Ltd.  The Dews estates were Gilbert's, Pares/Cochran's, and Comfort Hall/Creekside. 
1957: The Manager at Gilbert's for the Syndicate Estates was Athelson G. Tomlinson.
1969: The Lands of Antigua & Barbuda Sugar Factory Limited and The Antigua & Barbuda Syndicate Estates Limited (Vesting) Act.   30th December, 1969.
19.All that piece or parcel of land forming part of Gilberts and Glanvilles, approximately 373,072 acres 19 poles as contained in Certificate of Title No.1611947 dated 16th April, 1947 and registered in Register Book R Folio 52.
Godfrey Maginley (d.1956) was at Gilbert's prior to the late 1940's according to Malcolm Edwards, grandson.   See Burke's (#133) for information on the Maginley family.
1947: The Syndicate Estates purchased all of Messrs. Joseph Dew & Sons estates for £47,000.   Gilbert's & Glanville's (#97) (Reg. Book R Folio 51), Comfort Hall (Reg. Book R Folio 52), Pares & Cochran's (Reg. Book R. Filio 53 and Creekside (#28) with all live and dead stock including machinery.   Happy Hill Vol. 22 Folio 597/600).

1952: In 1952, the Manager for the Syndicate Estates at Gilbert's was C.F. Lake who was moved from Betty's Hope where he had been previously while P.H. Yearwood moved from Gilbert's to Fitche's Creek. and the Overseer was C.H. Owen.
1954: By 1954, Syndicate grouped their estates into Group A, B, and C for ease of management.   Gilbert's was in Group B with Tudways (#76), Diamond (#87), Comfort Hall (#103) and Betty's Hope (#77) for a total of 857 acres.   The Superintendent for Group B was E.G. Derrick.   The Manager for Gilbert's east and west section was Mr. A.G. Tomlinson.
1954: One story about the sugar locos is told by Mr. Maharaj.   In 1954, a train ran off the track in the vicinity of Gilbert's estate.   Members of the "Weigh Gang" and the "Porter Gang" were sent out to help in this emergency.   One Joseph Lake was the foreman of the Porter Gang.
1957: It was decided by the Syndicate Estates to offer the house and land at Gilbert's to the Methodist Church at $36,000.   The Manager for the Syndicate Estates at the time was Mr. Athelston G. Tomlinson.
The Gilbert Agricultural & Rural Development Center (GARDC) is located on the historic Gilbert's Estate in Antigua and Barbuda in the Eastern Caribbean.   The property is owned and managed by the Trust of the Methodist Church in the Caribbean & The Americas (MCCA).   The GARDC Center evolved as an entity for a two year pilot project which was implemented in 1989 as a collaborative effort amongst the MCCA, the Canadian International Development Agency (CIDA)/Canada Training Awards Project (CTAP), and the Government of Antigua-Barbuda.      
Enslaved People's History
Based on contemporary research, we have little information to share about the enslaved peoples from this plantation at this time. We only know that the estate contained 313 acres in 1829 and 158 enslaved people. The acreage grew to 320 in 92 years, and the numbers of enslaved peoples severely decreased after slavery was abolished in the Caribbean. The British government awarded Gilbert's and Mercer's Creek with £2,401 2 s 11 d for the liberation of 159 enslaved people between the two estates. We will continue our quest for more information about these vital individuals.
Legacies of British Slave-ownership: Antigua 131 Gilbert's and Mercer's Creek were awarded £2,401 2 s 11 d for 159 enslaved.
Awardees were Nathaniel Gilbert the younger.   Rev. Nathaniel Gilbert, previous owner.   Elizabeth Gilbert of other association.   Unsuccessful were Hardman Earle, Rev. Thomas Scott and John Hayward Turner.
Ownership Chronology
Ownership from 1750 Nathaniel Gilbert
1770: Rev Nathaniel Gilbert    (d.1774)     1777/78 Luffman Map
1800: Mrs. Nathaniel Gilbert    158 slaves
1852: Mrs. Nathaniel Gilbert   
1871: Mrs. Grace Gilbert      1872 Horsford Almanac  82 acres in St. Philip's
1873: James (1835-1895) & Robert Maginley (1846c-1881)  
1881: Mrs. R. Maginley  (1861c- 1887)
1887: George Thomas Godfrey Maginley  
1940: George T. G. Magnley (1878-1956 )            1933 Camacho map
1946: Messrs. Joseph Dew & Sons
1947: Antigua Syndicate Estates, Ltd.
1957: Methodist Church – house & land
1968: Antigua Government – Crown Land.
1989:  GARDC – Gilbert Agricultural & Rural Development Centre