Type: Extant
Parish: St.Philip
Founding date: 1710
See on Google Maps!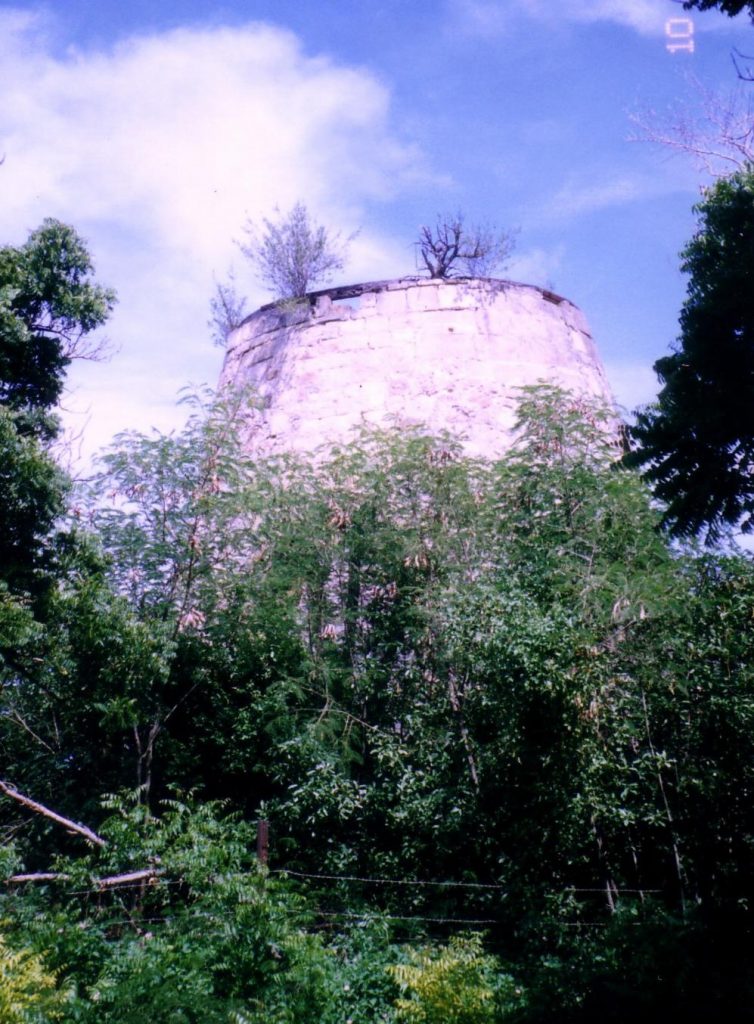 Current Status
The mill appears to be in good shape and was surrounded by bush and is not far from a small school. Recently the area has been cleared behind the Anglican Church and residential building close by
In the beautiful old St Stephen's Church at Glanvilles at the entry on the west side is a grave marker in the walkway to "William Hubbard, Planter, Who Departed This Life in 1804, Age 73." We don't know much about him but he may have been the manager for the estate particularly if Admiral Tollemache was an absentee landowner.
Apparently many of Antigua's lepers were buried in the Glanville cemetery.
Estate Related History/ Timeline
The name Glanville appears in Antigua from 1667 when a Richard Glanfield "claimed ½ of 20 men's land in Five Islands". Other spellings are Glanvile, Glandvield.
In 1710 William Glanville was given 160 acres in New North Sound, patent by Governor Parkes. William Glanville of Antigua and a Merchant was buried in 1713. His only son William d. 1734 and he stipulated in his will that "all my real estate in Antigua, to be sold, & the proceeds to be laid out in the purchase of lands in England, viz: 3/5 for my wife Eliz. & and then to my two sons William & John Alison at her death……" The History of the Island of Antigua by Vere Oliver Vol.II.
1710: "Indenture between Robert Weir and John Rose (d.1711) of Antigua, merchant, of the other, the latter agrees to let his plantation in New Northsound to the former, late in the occupation of William Glanville of Antigua, merchant, for lease of twelve years at £300 a year." Vere Oliver Vol.III p.52
1748: Will of Walter Weir, planter. "….In case George Lucas Osborne recover my estate called "Glanville", now known as "Weirs" ……. but if he also recover my estate called "Zoars" …" Vere Oliver Vol.III p.219
(There is aother estate called "Glanville's" and it is possible that Weir's may have been known as Glanville's at one time )
John D. Halliday owned seven plantations on Antigua.
1773-1864: Field Marshal Stapleton Cotton was the 1st Viscount Combermere as well as the Governor of Barbados in 1817, a British Army officer, a diplomat and a politician.
1829: this estate contained 298 acres – 111 slaves.
1847: "Few absentee landowners knew enough about life and labour in the West Indies to be able to do more than complain about declining profits. Mr. John Tollemach, a member of Parliament and owner of five Antiguan estates (Weatherills, Gambles, Glanvilles, Delaps & Lucas) translated their thoughts into rules and regulations. In January 1847 Mr. Tollemache had sent out very detailed instructions `to be strictly observed' in the management of his estates. By doing away with managerial perquisites and reducing certain extravagant local expenditures he thought he could reduce his expenses by about 1,000 pounds a year."
"Five of the Leewards" p.116 by Douglas Hall.
1851: The Antigua Almanac shows Glanville's of 296 acres belonging to John Tallemache.
1866: January 26th is the date of a letter written to Viscount Combermere, Combermere Abbey by a gentleman (unable to read signature) who was sent out to assess recently purchased estates. They were Weatherill's, Gamble's, Delaps & Lucas' and Glanvilles . All of the estates were declared to have potential but were basically in a run down state in regard to buildings, machinery, animals and condition of soil.
"Glanvilles – Is separate from the other Estates. It is about 10 miles from the Town and the produce is sent to the Shipping by —- as in the case of Delaps and Lucas. It is a large Estate, but a great deal of the corn land was pointed out as unfit for growing canes owing to some defect in the Soil. This I consider improbable. At any rate I am certain if lands were planted at St. Kitts as they are on this Estate they too wd not bear canes. The Estate is not so seasonable as Delaps but it has resources which remain to be developed. The buildings are dreadfully dilapidated, the works in some places are nearly falling in and considerable repairs are necessary to be done at once to prevent further damage. There is a good windmill which in all probability will be found sufficient to reaping the Crops. The manager estimates the present crop at 150 Hhds. Cattle are required for this Estate as well as for those already mentioned.
Since my arrival I have shipped by the "Rulturn," one of Manning's ships, 44 Hhds. of Sugar and 20 pans of molasses, and there is now as much more on hand so that I hope to ship by the next vessel —- 100 Hhds. I have drawn a Bill of £500 for the current expenses since the 1 January and I have lodged the money in the hands of Mr. Patrick Barnes who you asked me to appoint Town Agent and Bookkeeper. During my stay in this island I have taken every opportunity of making myself fully acquainted with your Estates and with the Island in general and I believe that the Estates are capable of making a good deal of sugar, far more than they are shown to have done heretofore, but you must not shut your eyes to the fact that to make them profitable you will require to lay out a good deal of money and labour on them.
Salaries – Mr. Tollemache's arrangement Lord Combermere's
Attorney Edward Becket 70 60
Manager J.J. Walter 120 120
Overseer 55 L.245 55 L.235
The average annual Island Espences of the estate for 5 years, including Salaries, Laboureres wages & all other items £1,427. Average crops for 5 years 109-133 Hhds.
Lancashire Archives, Preston, Scotland.
1921: this estate contained 300 acres.
" Until 1950 Seatons was the main village in the area. Two hurricanes `Baker' (Dog) and `Cat' devastated the whole village. Many of the residents moved to Glanvilles. Glanvilles Pasture was well known for functions held there on church holidays in the old days – it was the place to go. Brass bands and even horse racing, right next to St. Stephen's Anglican Church". Selvyn Walter.
1947 :The estates of Messrs. Joseph Dew & sons were purchased by the Syndicate Estates for L47,000. These included Gilbert's, Glanville's (Reg.Book R. Folio 51) and Creekside with all live and dead stock including machinery. Happy Hill vol. 22 Folio 597/600.
1949: The Land Settlement Board required acreage for the settlement of Peasants. After reaping the crop for 1949 the Syndicate Estates made the land available to the Government which they sold for $31,000 but actually settled for $25,000. Along with land at Glanville's, land was made available at Comfort Hall, Mayer's and Gilbert's.
1969: The Lands of Antigua & Barbuda Sugar Factory Limited and The Antigua & Barbuda Syndicate Estates Limited (Vesting) Act. 30th December 1969.
19.All that piece or parcel of land forming part of Gilberts and Glanvilles, approximately 373,072 acres 19 poles as contained in Certificate of Title No.1611947 dated 16th April, 1947 and registered in Register Book R Folio 52.
After the 1950's hurricanes which damaged the Glanville Anglican church considerably, it has been said that cut stones were taken from Betty's Hope, which was just down the road, to repair the building. The old case of robbing Peter to pay Paul.
In the beautiful old church at the entry on the west side is a grave marker to "William Hubbard, Planter, Who Departed This Life in 1804, Age 73." We don't know much about him but he may have been the manager or overseer for the estate.
Enslaved People's History
Based on contemporary research, we have little information to share about the enslaved peoples from this plantation at this time. We do know that the estate contained 111 enslaved people right before slavery was abolished in the Caribbean. We will continue our quest for more information about these vital individuals.
Legacies of British Slave-ownership:
Glanvilles awarded £1,794 5s 4d for 106 enslaved. Awardee was John Tollemach (nee Haliday). Daniel Hill was Beneficiary deceased and Vice Admiral John Richard Delap Tollemach (nee Haliday) was successful deceased. Unsuccessful were Daniel Hill, George Wickham Washington Ledeatt and William Lee.
Ownership Chronology
1710 William Glanville d.1713
1713 William Glanville d.1734
1730 Col. Robert Weir d.1748
1750 Charles Dunbar d.1778
1829 John D. Halliday (1715-1779) – owned seven plantations. 1777/78 Luffman map
1843 Rear Adm. John Halliday Tollemach.
1878 Adm. John Tollemache. – 296 acres 1851 Antigua Almanac
1891 Lord Combermare. 453 acres – 1st Viscount Combermere – 1872 Antigua Horsford Almanac
1891 Lord. Combermere & Wlm. Goodwin (1830-1899)
1921 C. Maginley 1933 Camacho map
1954 The Antigua Syndicate Estates Ltd.
1968 Antigua Government – Crown Land
1896-1921 John Maginley