Type: Extant
Parish: St.George
Founding date: 1679
See on Google Maps!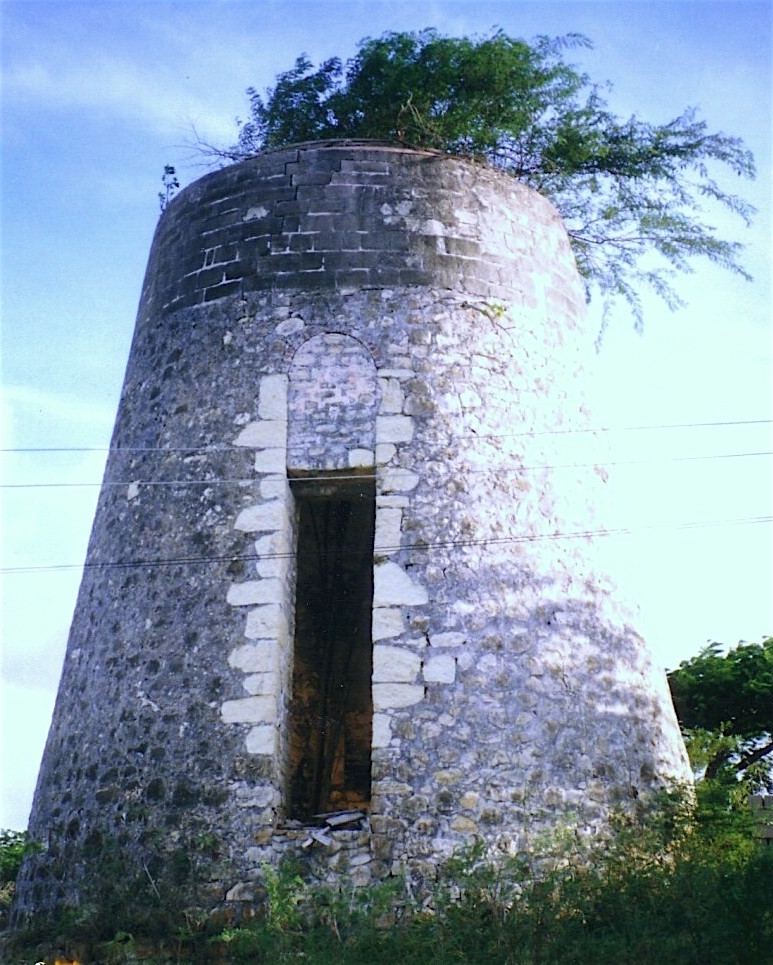 Current Status
There is still a mill on this site which is in excellent condition and there is no record that this estate ever converted to steam.   The Hugh Marshall family has repaired the original estate house and has built several other residences around the area.
The Antigua Sugar Factory (Gunthorpe's) is used to run off their residual water past Weir's into Fitche's Creek and during crop time the stench was quite unbearable. However, as Kitty (nee Lake) and Peter Yarnold, who once lived on the estate, declared, it was something one simply got used to.
Estate Related History/ Timeline:
1679:  "Harvie Keynell, Esq., leases for 21 years to John Weir, merchant, "Little Zoar" in St. John Division of 350 acres, he to pay £10,000 for the first year, £15,000 for the second and £20,000 for the third, and to pay off debts of £80,000.   Schedule follows: 3 Christian servants, 20 negroes, 30 sheep, 22 cattle, 2 horses.

1704: Capt. John Weir leased 350 acres for 21 years of Harvey Keynell.  Vere Oliver Vol.III p.218

1704:  Col. Robt. Weir (d.1748) sold "Little Zoar" of 223 acres in St. John's Division  Edward Chester

BibleGateway.com – the origin of 'Zoar.'

"And Lot went up out of Zoar, and dwelt in the mountain, and his two daughters with him; for he feared to dwell in Zoar: and he dwelt in a cave, he and his two …"

1710: "Indenture between Robert Weir and John Rose of Antigua, merchant, of the other, the latter agrees to let his plantation in New North Sound to the former, late in the occupation of William Glanville of Antigua, merchant, for a lease of twelve years at 300 pounds a year."  Vere Oliver Vol.III p.52  

1720: "Will of Robert Weir dated 4th Feb. 1720.   To my son Alex a negro boy and horse.   To my son James £30.  To my son Thos. a negro boy at 16.   To my son Walter £25.   To my daughter Eleanor Weir a negro girl.   To my daughter Elizabeth Weir a negro girl at 17.   To my wife Cristobella all my estate." Vere Oliver Vol.III p.219.

1748: Will of Walter Weir planter. "….In case George Lucas Osborne recover my estate called "Glanville", now known as "Weir's" …..but if he also recovers my estate called "Zoar's" …."   Vere Oliver Vol.III p.219

(This is a little confusing as there is another estate called "Glanville's" but only one "Weir's" – there are two Cochran's (Cochran's and Cochran's (Bethesda) for instance.)

Thomas Kerby owned Prince Klaas' (King Cort) "head slave" which he brought from his estate named Parry's to his town residence which was situated just below the old Courthouse (Museum of Antigua & Barbuda) in St. John's.   He was his head groom and traveled with him between his plantations and town.   He was in a perfect position of trust to meet with slaves from other plantations in order to plot the slave insurrection of 1736.   A two-story structure in St John's still stands today on that exact site and the car park to the south of the building was where the stables were located.   This is where Farara's had their bottling plant which later became the Lemon Tree restaurant and finally today, the Meinl Bank.  Where the Court House stands (next door), now the Museum of Antigua & Barbuda, used to be the site of the Sunday market where many slaves gathered to sell their ground provisions.   Prince Klaas is one of Antigua's National heroes.

1810: Will of Thomas Norbury Kerby left to daughter Anne Byam Kerby (d. 1842 UK) "Parry" and "Weir's."   Vere Oliver Vol.III p.120

In 1829, Weir's contained 422 acres and had 184 slaves.

1851: Antigua Almanac shows Weir's 136 acres belonging to Miss Ottley.

1852: The "Diamond" in St. Peter's Parish in 1852 contained 134 acres and was owned by F.B. Ottley.   "Weir's" of 136 acres in St. George's Parish was owned by Miss Ottley and "Parry's" of 22 acres by George W. Ottley.  Vere Oliver Vol.III p.1

"Received a note today from Charles Matheson, Esq., manager of Kirby Ware's, inviting me to bury William Ford, a negro doctor and member of the Society, on the estate…The Manager, with me, took the lead in the funeral procession which consisted of at least three hundred slaves, who walked arm in arm with great order, and remarkedly neat and clean in their persons."
Journal of Thomas K. Hyde, Caribbean Adventures edited by David U. Farquhar. p.57

The Richard Otley (b.1730) family from whom Francis Byam Ottley is descended, originated in St. Kitts.   The Ottley family also owned extensive land in St. Vincent.   It is shown that Diamond (#87) was owned by F.B. Ottley in 1852, Weirs by Miss Ottley, and Parry's (#88) by George W. Ottley.   Vere Oliver Vol.II

1878 A notation from the Sedgwick genealogy site, states that on the 19th of October, 1835, Elizabeth Sedgwick and her son Samuel, purchased 45 slaves for £774 19s.   The first Sedgwick to be noted in Antigua was Henry Sedgwick of Nevis, chirurgeon, in 1685, and by the mid-1700s Samuel Sedgwick owned 113 acres in St. Paul's and 35 acres in St. Mary's Parish.   Nowhere does it categorically state the names of the estates.    Leonard Henzell's (Paynter's (#61) wife Lena, was a Sedgwick.

In St. John's churchyard, there is a ledger with an iron grill to the memory of Samuel Sedgwick d.1800, Elizabeth Sedgwick d.1842, and other family members.   In St. George's churchyard in an enclosure of six graves are several members of the Sedgwick family including Samuel Jarvis Sedgwick d.1881.   Curtis Gomes

Joseph Francis' (1933) father was a shopkeeper at Long Lane.   The Portuguese in the community often owned or operated the estate shops or rum shops on the island and came together to form the Antigua Distillery and the making of Cavalier and English Harbour rum.

1940: The proprietor of Weirs, Mr. DeSouza Jardin, gave permission for the Antigua Sugar Factory to use the water from his spring in order to complete the crop.   Two years without "pond rains" had caused a serious drought.

1940: The Proprietor Mr. DeSouza Jardin gave permission for ASF to use the water from his spring in order to complete the crop.   Two years without "pond rains" has caused a serious problem.

1941: A Water Conservation Project at Weir's was approved for the expenditure of $2,135.76 for the primary object of supplying the U.S. Base Authorities but the right to use by neighbouring estates.   The Syndicate assisted Mr. Camacho in building the reservoir.   The source of water is a large spring about 2 miles south of the Base site known as Weir's Spring from which the contractor will pump raw water into the storage reservoir at Weirs.   Up to 5,000 gals. Per day to the Base at 35¢ per gallon for the first 10,000 gallons and 5¢ less for each 10,000 consecutive gal. thereafter.

1941: Antigua Sugar Factory, Ltd. Cane Returns for 1941 Crop.   Weir's.   Estimated 719 tons, 52 1/2 acres estate, – acres peasants on the estate, tons of cane delivered 690 at 13.14 tons per acre.

1943: Syndicate said that the lease of Weirs should be taken over on the same terms presently held.   This was the lease from owner Caroline Francis by Syndicate.

1950's: Godfrey Maginley (d.1956) managed Weirs estate.  Grandfather of Malcolm Edwards

1951:  Weirs was owned by Mrs. Francis (Aunt of Eugene Jardine).  Following the death of Mrs. Caroline Francis on 29 May 1958, and the Syndicate exercised their option to purchase Weirs for $11,500.   It had been leased by the Company for a number of years.

During crop time at Gunthorpes Sugar Factory (ASF) the runoff water was channelled past Weirs to the creek and the whole area gave off a rank smell.   This was known as 'factory lee pond' – meant stink.   If you told someone their breath smelt like 'Lee Pond,' it meant you had bad breath.   Selvyn Walter

The Maginleys once lived at Weirs and I remember going to see them.   They complained that all of their silver would turn black from the stinky run-off water smell.   Helen Abbott.

1950s:  It was along the road to Weirs off the main road where the loco line crossed at the Northsound bridge, that we used to go after a heavy rain to catch land crabs.   It was not far from the factory where we grew up and something we looked forward to as an evening's entertainment.   Armed with flambeau (pipe stuffed with a kerosene-soaked rag that you lit) and crocus bag, we would branch out along the side of the road to Weirs. The swamp was to the right and the crabs crossed the road and were easily pounced upon blinded by the light of the flambeau.    No one liked to be in charge of the bag, however, because if you slung it over your shoulder you were likely to get a good pinch from one of the gundies.    My stepmother, Elaine Watson, would then have us all 'pick' the crabs after they had been purged and fattened for 10 days to make crab back.
It would take all morning and our hands would be good and cut up by the time we had finished.    Everyone loved crab back, but Lord, the work involved almost cured us from crabbing!.   Agnes Meeker (nee Watson)

The Law firm of Hugh Marshall & Co. was The Law firm of Hugh Marshall & Co. was established in 1991 by Hugh Marshall, Sr.
Former parliamentarian for the Labour Party and businessman owns the Weir's estate house and surrounding land which includes the sugar mill.   Several homes have been constructed near the original estate house.
Enslaved People's History
Based on contemporary research, we have little information to share about the enslaved peoples from this plantation at this time. We have only this information remaining: "1679 – Harvie Keynell, Esq., leases for 21 years to John Weir, merchant, 'Little Zoar' in St. John Division of 350 acres, he to pay £10,000 for the first year, £15,000 for the second and £20,000 for the third, and to pay off debts of 80,000. Schedule follows: 3 Christian servants, 20 negroes, 30 sheep, 22 cattle, 2 horses." We also know that Weir was awarded £2834 18 s 7 d for the freedoms of 187 enslaved people once slavery was abolished in the Caribbean. We will continue our quest for more information about these vital individuals.

Legacies of British Slave-ownership:

Weir's was awarded £2834 18 s 7 d for 187 enslaved.
The awardee was Samuel Warner and Rev. John Thomas Wilgroes was claimant in List E.
Ownership Chronology
1679 Harvey Keynell
1700 Capt. John Weir (d.1704)
1704 Robert Weir (will 1720) is listed as a 'planter' in Vere Oliver Vol.III
1740 Colonel Robert Weir (d.1748)
1746 Walter Weir (will 1748)
1750 Hamilton Kirby d.1767
1790 Thomas Norbury Kirby d.1810. Owned Prince Klass. 1777/78 Luffman map
1819 Anne Byam Kirby (1796-1842)
1843 Francis Byam Ottley
1851 Miss Ottley
1878 Heirs of Samuel Sedgwick. (d.1842) 1872
1891 Samuel Sedgwick.
1921 J. Desuza Jardine.
1933 Joseph Francis 1933
1951 Mrs. Caroline Francis
1954 The Antigua Syndicate Estates, Ltd.
1968 The Antiguan Government – Crown Land
1980 Hugh C. Marshall. Buff house and mill site