About
Type: Ruin
Parish: St.George
Founding date: 1660
See on Google Maps!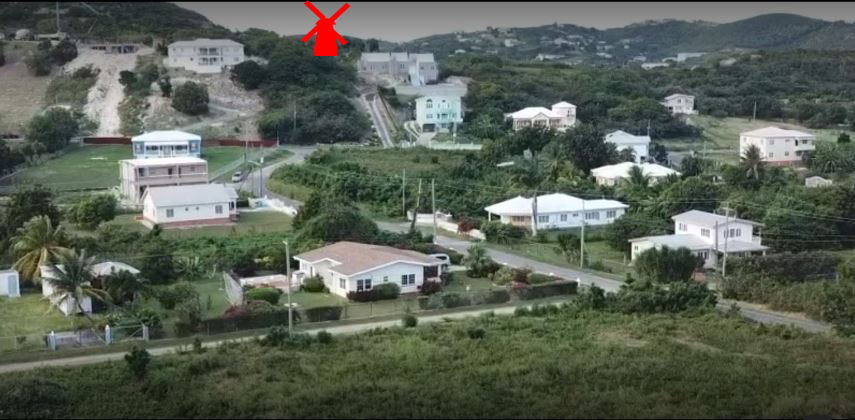 Current Status:
There is no longer a mill at this site and the estate land has been converted to a fairly affluent private housing development. In Fitches' Creek is St. George's Anglican Church, one of the oldest churches on the island, built in 1687 on land granted to Daniel Fitch. This church has been rebuilt several times after sustaining hurricane damage. The area is said to be haunted; seen several times is a very angry young man pacing back and forth outside the wall of the churchyard.

It is said that the estate house and works were on the hill to the back of Fitches' Creek, which would have overlooked the entire area including the sea, and would have been in the paths of the trade winds (as indicated by the icon in the image). The buff house is thought to have been situated on a hill to the right of where the works were located, now a residential area. The pond for the estate was at the foot of the hill and is still there along with ruins in the bush. This estate later converted to steam and was considered one of the largest on the island with more than 500 acres.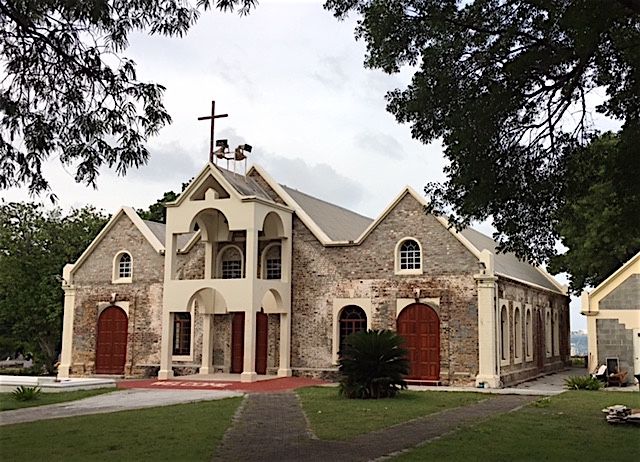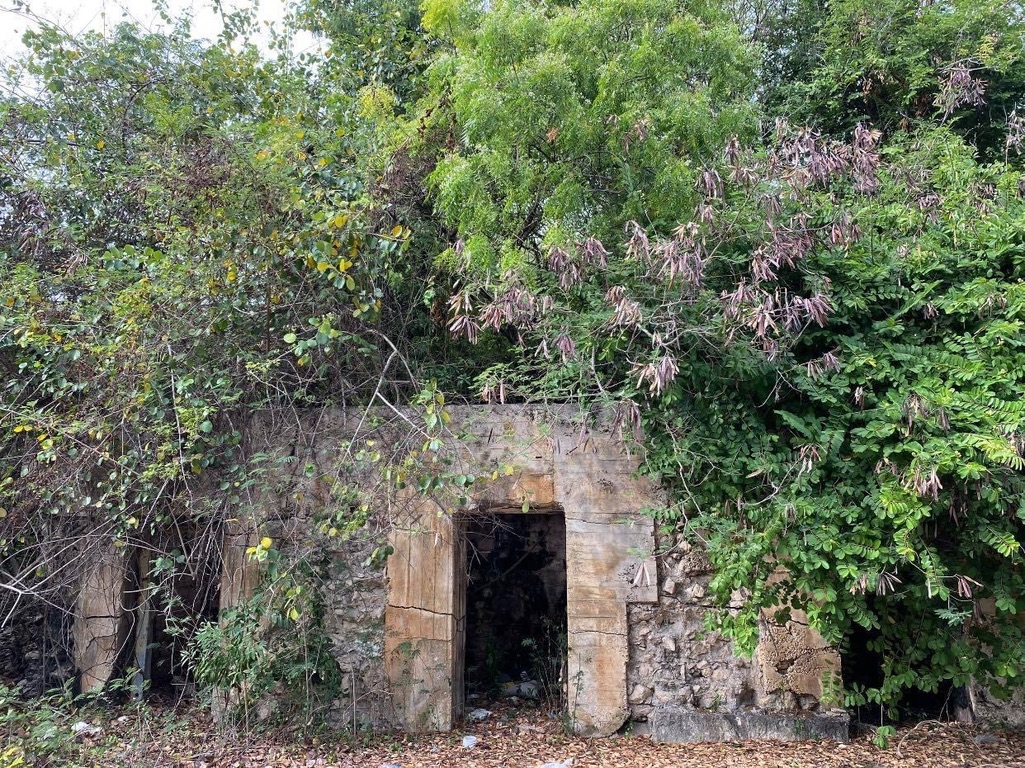 Estate Related History/Timeline:
1666: November 30th. "Eleven French vessels return to Saint John's harbour (Antigua) from Saint Kitts with almost 1,000 men under Clodore learning that 900 Englishmen have marshaled in its northern district (Pope's Head) from neighboring Barbuda and Nevis under Col. Daniel Fitch. Despite having given their parole when Antigua surrendered to the French, many English residents now appear in Fitch's ranks. The French commander therefore sails for Pope's Head and disembarks his small army, seconded by Pierre Hencelin and Blondel, immediately charging into the motley English force and scattering its members back aboard the ship, without suffering a single loss. Having this reasserted French domination, Clodore continues toward Martinique." Wars of the Americas
After Surinamthe island of Antigua where in a letter to a friend in 1668 Byam wrote that he had "deserted our unfortunate colony of Surinam, war and pestilence having almost consumed it. As it is to revert to the Dutch, I have with great loss removed to Antigua where I am hewing a new fortune out of the wild woods." Even resilient, he was soon named governor of Antigua, and his estates of Cedar Hill, North Sound, and Willoughby Bay, the foundation of the family fortunes, were returned to him by Charles II's royal patent of 1668. Willoughby Bay, reputedly located in the most fertile part of the island, was considered "the best cultivated and most productive" and the "prettiest of all the plantations in Antigua."

1697: The tablet commemorating the first settler to be buried in the sanctuary of a place of worship states, "Here lyes the Body of William Barnes, Aged 34 years Born in December Anno 1656 and depart'd this Life ye 16th November 1695, As also the Body of Phillip Barnes Born the 4th June Anno 1695, Who depart'd this Life 26th March 1697." William Barnes of Barnes Estate is now the site of Barnes Hill village. The cemetery in St. Georges churchyard is said to be one of the most haunted areas in Antigua and the church is one of the oldest on the island. History of St George's The 1777 map of John Lufman also shows that near the site of St George's church was a mill owned by The Hon. Martin Byam but does not give a name.

Legacies of British Slave-ownership: £4,128 14s 6d awarded, 264 enslaved. William Shand was the awardee while Byam was unsuccessful.

1734: Edward Byam of Antigua in his will dated 20th November, "Benjamin Asty and his family to have the use of my little island called 'Needs Must' with the house. If be ruined in this present war my wife to have £500 from my stock in England." V. Oliver Vol.I p.103

1777: "General Bart, it is said, was dining at a party at "Pensive Hall" (the name of the great house upon Martin Byam's estate, now belonging to Mister Shands of Liverpool, England) when he saw an apparition, which informed him, that ere twelve moons had waxed and waned, this mandate should be issued to him – "Thou shalt die and not live." He related the circumstance to the party and expressed his firm belief in it. His friends removed him to the Great House upon Weir's estate (present seat of Francis Byam Ottly, Esq.,) and by convivial parties, strove to overcome his melancholy forebodings; but all was of no effect. He finally sailed for England, and died upon his passage, the very day twelve months he saw the apparition." Antigua and the Antiguans p.116
In the late 1800s, John Duer Cranstoun was manager of Union Plantation, Cooke's, and Fitches' Creek estates. The Cranstoun family later went on to own Potter's, Cochran's, and Thomas'. An excerpt from a letter written by Langford Sally Cranstoun (son of John Duer Cranstoun) on December 20th, 1918 to his son in Canada gives a little insight into the Abbott family. "Fred (Robert Alfred Abbott) is Overseer with Dyett at Fitches Creek, turned the corner too short with a two-wheeler got it turned over on him, and had to be taken to hospital the same day his sister (blood poisoning) went the same time their mother was ill with flu but they are all slightly on the improve."

1837: "Francis Shand of Woolton Wood near Liverpool, West India Merchant, owned large estates in Antigua. In 1837, he married Lydia Byam of Cedar Hill at St. George's." 1851: Antigua Almanac shows Fitches' Creek of 517 acres and belonging to Misters W. & F. Shand.

1837: Mr. H. Armstrong was then manager. "One of the largest on the island, consisting of 500 acres, of which 300 are under cultivation. The number of people employed and living on the property is 260. This estate indicates anything less of an apprehension of approaching ruin. It presents to appearance, far more, of a resurrection from the grave. In addition to his improved sugar and boiling establishment (new and built after a plan of Mr. H. Armstrong's own devising – brick on a very extensive scale), he has plans for a new village (as the collection of negro houses is called) and has already selected the ground and begun to build. The houses are larger than those at present in use, they are to be built of stone instead of mud and sticks and are to be neatly roofed. Instead of being huddled together in a large place, as has mostly been the case, they are to be built on an elevated site and ranged at regular intervals around three sides of a larger square in the center of which a building for a chapel and schoolhouse to be erected. Each house is to have a garden. It has become the interest of the planter to make it for the interest of the people to remain on his estate." Emancipation in the West Indies by James A. Thome -1837.

1852: "Edward Byam's patent refers to Martin Byam's or Fitche's Creek plantation now owned by Hon. Arthur Shand Esq., …. and in 1852 contained 517 acres and then owned by Messrs. W & F Shand. The island of 2 acres would be Cinnamon Island." Vere Oliver Vol.I p.107

Francis Shand (1800-1868): Was an Absentee West Indian merchant and ship owner of Liverpool, who before his marriage held several leases on local plantations. Through his marriage to Lydia Byam (1837), he became one of the largest proprietors of land in Antigua at that time. He had also been very active in negotiating the terms of emancipation in England. The 1852 census listed among their properties a 517-acre plantation at Martin's Byam or Fitche's Creek in St George's Parish; Mount Lucye, a 230-acre estate also in St. George's; Cedar Valley a 128-acre plantation in St. John's parish; Harts & Royals, two estates consisting of 206 acres, the 90 acre Blizard estate and diverse other estates owned or leased by Francis Shand. The union produced 13 children including that of their heir Charles Arthur Shand. By the mid 1980's the only property left was Fitche's Creek. Several well-to-do families, the Byams, Shands, and Codringtons among them, were still able to hold their own, though the Shands struggled with outmoded sugar machinery, sinking deeper into decay and debt. Some families continued to prosper, even after the arrival in the 1890s of Dubuisson and Moody Stuart, the corporation that was to monopolize the sugar industry in the Twentieth Century; the Shands did not. By the mid-1890 the only property left to the family was Fitche's Creek estate, part of William Byam's original land grant and in possession of the family since the mid-17th century. Then in the 1880's, when Charles Arthur was a young married man, the family entertained the future George V, when he visited Antigua as a midshipman and was invited to enjoy duck shooting. Years later, visiting Antigua as a federation minister, Phyllis asked to be taken to Fitche's Creek, only to find nothing there but a "diminishing pile of grey stones lying in the grass—-" all that was left of the old estate house where a little boy had practiced in the pantry how to hypnotize guests into yawning by making a pincer movement with his thumb and forefinger." In a book written by Phyllis Shand Allfrey (b.1908 d.1986 Dominica) Dominica, East Haunt of the Caribs in a chapter called "Ghosts in a Plantation House," Phillis gives an excellent account of the last of the Byam/Shands in Antigua.
The lands became the property of Dubuisson and Moody Stuart. The little hypnotist, Phyllis's father (Francis Byam Berkeley Shand b.1879), and his brother, Kenrick, were the last of the Byam Shands to grow up in the family's estate in Antigua. Their father, Charles Arthur, was appointed to the magistracy in Nevis where he soon died." In 1852 the Byam/Shand family still possessed considerable wealth with the Census showing Martin's Byam or Fitches Creek 517 acres, Mt. Lucye 230 acres, Cedar Valley 128 acres, Blizard's 90 acres, and diverse other estates owned or leased by Francis Shand. In 1921, it contained 531 acres.
1895: "Charles Arthur Shand of Fitches Creek." Vere Oliver Vol.III p.78

1938: The Lands of Antigua & Barbuda Sugar Factory, Limited and the Antigua and Barbuda Syndicate Estates Limited (Vesting) Act. April 1938 and Register Book Book 0 Folio 14. All that piece of parcel of land forming part of Gunthorpes and Fitche's Creek Estates approximately 103.373 acres as contained in Certificate of Title No.31. "The land to the east of the church was known as St. George's pasture. Many a moonlight picnic was held on the lawn and it was famous as a lover's lane. The whole area along the dirt road and the mangroves, before it became a housing development, was a great place to go crabbing with flambeau and crocus sac." Selvyn Walter.

1940: The Antigua Sugar Estates had reissued 18,000 shares at £1 each to three DuBuissons (James Memoth DuBuisson, Mrs. Edith Manus DuBuisson, and William Herman DuBuisson), Alexander Moody-Stuart, and Judith Gwendolyn Moody-Stuart. This signaled the final shift to the next generation, as George Moody-Stuart was offered shares but declined (Antigua Syndicate Estates minutes, 4 January 1940; 1 May 1940). The estates to be controlled by the new company were the "Gunthorpe's" estates: Cassada Gardens, Paynter's, Tomlinson, Fitches' Creek, Donovan's, Gunthorpe'se, North Sound, Cedar Valley, Galley Bay, and Five Islands.

1939: W.C. Wynter was the Manager for Syndicate and D.W. Bailey was the Overseer. 1945 –The Superintendent for the Syndicate Estates Group C was N.S. Slack of North Sound, Fitches' Creek, Cassada Gardens, Langford's and Jolly Hill. The Superintendents, Managers, and Overseers for Syndicate were constantly moved around and in 1952 P.H. Yearwood was moved from Gilbert's to Fitches' Creek, Overseers were Rupert Grant and Archibald Butler while F.H. Francis was moved from Fitches' Creek to Betty's Hope as Manager. In 1955 Group C was North Sound, Fitches' Creek, Cassada Gardens, Jolly Hill and Creek Side for a total of 726.8 acres, and the Syndicate Estates comprised 13 in total at this time. In 1949, the then manager, D.W. Bailey deceased, and Mr. W. Mandeville of North Sound moved over to Fitches Creek. The Superintendents, Managers, and Overseers were shuffled around the Syndicate Estates quite often and in 1952 P.H. Yearwood moved from Gilbert's to Fitches' Creek while the Overseers were Rupert Grant and Archibald Butler. The Syndicate Estates were divided into three groups, A, B, & C with Fitches' Creek being grouped with North Sound (#66), Cassada Gardens, Jolly Hill and Creek Side in Group C which comprised a total of 726.8 acres. The Superintendent in 1952 was Mr. B.P. Slack.

1941: Antigua Sugar Factory, Ltd. Cane Returns for 1941 Crop. Fitche's Creek. Estimated tons, 6740 acres estate, 40 acres peasants on the estate, tons of cane delivered 6398 at 21.21 tons per acre.

1943: On August 1st, Gunthorpes Estates, Ltd. was restructured (see #64 Gunthorpe's) into a 'new' company renamed Antigua Syndicate Estates, Ltd. The original company's estates were Cassandra Garden, Cedar Valley, Fitche's Creek, and North Sound were bought for 30,700 pounds; while Delaps was bought for 7,734 pounds.

1952: The Fitche's Creek house was offered for sale by the Syndicate at a fair price regards portions that were moveable. In other words, it was in such a dilapidated shape that it was not feasible to repair it so was sold as scrap.

1956: The Manager for the Syndicate Estates was R.S. Paton.

1958: Sold to Charlesworth and Maude Ross, was 18.76 acres at Fitches Creek which later became a housing development. Charlesworth Ross was born in Antigua in 1918. He was commissioner of Montserrat from 1949 to 1956 a British Colonial Secretary for the Leeward Islands and a civil servant throughout his life. He wrote a book entitled "From an Antiguan's Notebook" and was very interested in the megaliths on Greencastle Hill. In 1958, 18.76 acres at Fitche's Creek were sold to Charlesworth and Maude Ross by the Syndicate Estates, Ltd.

1969: The Lands of Antigua & Barbuda Sugar Factory, Limited and The Antigua & Barbuda Syndicate Estates, Limited (Vesting) Act. 30th December, 1969. 1. All that piece or parcel of land forming part of Gunthorpe's and Fitche's Creek Estates approximately 103.373 acres as contained in Certificate of Title No.31/1936 dated 7th August, 1936 and registered in Register Book N Folio 31.
Enslaved People's History
Based on contemporary research, we have little information to share about the enslaved peoples from this plantation at this time. We only know that the estate was awarded a sum of £4,128 14 s 6 d for the liberation of 264 enslaved peoples in 1829. We will continue our quest for more information about these vital individuals.
Ownership Chronology
1660 Col. Daniel Fitch (d.1672)
1750 Col. William Byam (b.1706)
1790 Martin Byam (b.1742) – 1777/78 Luffman Map
1829 William Byam (1753-1830)
1843 Messrs W. & Francis Shand (1800-1868)
1872 Francis Shand 1872
1891 Charles Arthur Shand
1921 T. DuBuisson & A. Moody Stuart – 1933 Camacho map
1943 The Antigua Syndicate Estates, Ltd.
1969 The Antigua Government – Crown Land
2000 Now a large residential area.
1960's Charlesworth Ross (b.1918) purchased 18.76 acres
1970's Hawley's Heirs of Ross 18.76 acre
References
Wars of the Americas
www.ucl.ac.uk/lbs/search Antigua 354- Legacies of British Slave Ownership