About
Type: Ruin
Parish: St.Philip
Founding date: 1739
See on Google Maps!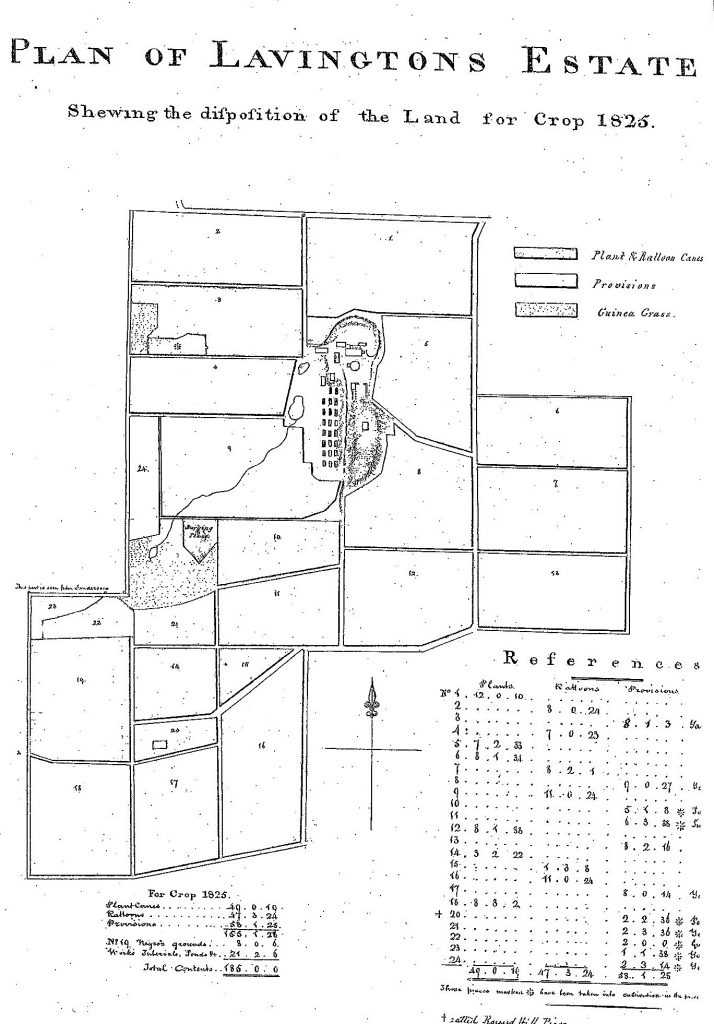 Current Status:
There is no longer a mill at this estate but on top of the hill where a lone spindly palm waves in the breeze, are the ruins of the old estate house with ruins of the works further down the hill. It is all completely covered in bush today with a few goat paths making access available.To the north is Long Lane, to the west is Potworks Dam, south is Lyons and east is —– part of Gaynors. A plan of the estate was copied from Vere Oliver Vol.II which shows the layout of the buff, works and slave quarters.
Estate Related History/ Timeline:
1739: "Sir Ralph Payne, K.B. 1739-1807, created 1st Baron Lavington, who succeeded to this estate on the death of his mother, at St. Christopher's, in 1760, at the time when a general sickness prevailed in that island. Lord Lavington was born at Basseterre, in the parish of St. George, in the island of St. Christopher's, 19 March, 1739. In 1771, he was made Knight of the Bath; and in 1795, was raised to the peerage by the title of Baron Lavington of Lavington. He md. at St. George's, Hanover-square, 1 Sept. 1767, Frances, Baroness Kolbel, one of the ladies who accompanied her Majesty Queen Charlotte, on her leaving Germany, as the bride elect of King George III. Lord Lavington died at Antigua, 1 Aug. 1807, leaving to his lady his estates for her life."

It appears that William Lavington also owned a sizeable estate in St. Mary's Parish.
1755: this estate consisted of 120 acres.
1755: "witnesseth that in consideration of 5/-s Stephen Lavington conveys to James Gordon, Nathaniel Gilbert and Patrick Grant, all that plantation containing 120 acres (1755)" V.Oliver Vol.II p.166.
1763: Capt. Andrew Lessley (d.1780) master of "The Charming Sally"….. in 1763 sold 450 acres in St. Mary's Parish to William Lavington. Vere Oliver.
1803: war was declared between England and France and notice to this effect was directly forwarded to Lord Lavington, by Lord Hobart, who at that period was one of the principal secretaries of state. Antigua was put into a state of defense and all commanders of ships were obliged to pay into the hands of the receiver appointed one full pound of powder per ton, to the size of the vessel; half in cannon and the other half in pistol powder.
Antigua & the Antiguans, Mrs. Lanaghan
1824: James Gordon owned Monkes Hill, Osbornes, Lavingtons and Sandersons.
1829: Estate consisted of 185 acres and 150 slaves.
1824: "in 1824 a Mr. Johnson was sent out to the West Indies by Mr. Gordon to ascertain the condition of family estates there. The report was very voluminous and illustrated with watercolor drawings, maps, plans, etc… the following figures are taken. He also owned Fairhall 421 acres and Brebner of 259 acres in St. Vincent.
Sandersons 311 acres – 230 cultivated. 61 men, 98 women, 82 boys and 74 girls. Total number of slaves 315.
Osbornes 217 acres all pasture.
Lavingtons 185 acres of which 155 cultivated. 28 men, 44 women, 28 boys and 45 girls.
Monks Hill 172 acres, all pasture." The History of the Island of Antigua by Vere Oliver Vol.II.
The Beineke Collection of The Lesser Antilles at Hamilton College.
M317 1788 Estate of Sir Ralph Payne KB … Accounts Sales of Rum for 1788… Account Current with John Elliot…. A List of the Slaves & Stock on the Estate of Sir Ralph Payne…K.B. for the Year 1788.
M526A "Plan of Lavington's Estate. Shewing the disposition of the Land for Crop 1825" at p.20 of Antigua.
"List and description of Eighty-two Slaves removed by Mr. Johnson from lavingtons Estate to Sanderson's Estate September 1824." p40-41 of Antigua
"List and description of Slaves on Lavingtons Estate 6th March, 1824." pp.47-51 of Antigua.
1851: The Antigua Almanac shows Lavington's of 121 acres was owned by James Adam Gordon.
1852: Lavingtons contained 185 acres and was owned by James Adam.
1861: Government House was originally the Rector's House (St. John's Cathedral) and was bought especially for Lord Lavington when he was appointed Governor. Two rooms were added to the house for the accommodation of Prince Alfred, Duke of Edinburgh, when he visited the island in 1861. Bessie Harper
1872: – An example of a newly arrived family that benefited from act was the Maginleys. Two brothers, John and Robert, arrived from Ireland sometime between 1852 and 1872—they are not listed as owning estates in the 1852 almanac, but are 1872. The story is that they came as apprentice planters, or managers, but quickly set about acquiring estates of their own. Using both the court and private sales, they had, by 1878, accumulated almost 4,500 acres and together were the largest owners in Antigua. Their estates (Comfort Hall, Gilbert's, Long Lane, Lavington's, Lyon's, WIllis Freeman's and Burke's) were primarily in the fertile southeast. By 1891—again using the court—these had been supplemented by Cedar Hill and Sanderson's, for a total of nine estates. John served on the Legislative Council for twenty years, as well as on a number of public boards, and was a leading member of the plantocracy.
1824: "(1824) Lavingtons 185 acres, of which about 155 were cultivated. 28 men, 44 women, 28 boys and 45 girls, total number of slaves 145." V.Oliver Vol.II p.27.
Lavington's was a beautiful wooden buff house which was completely bulldozed in the 1960's. I never drive by without remembering a Major Ivan Hicks Kerr from Mill Reef who coughed and the earth shook. His maid took some Lord Lavington bush and pin them "down wid de grass and squeeze dem dung in a drink dat fix up Major Hicks Kerr well. He said he'd pay anything for that bush." Selvyn Walter
1940's: All that is left to indicate where the buff house site is today other than some of the stone ruins is a tall, thin waving palm tree on top of the hill. When this palm was smaller in the 1940's/50's, the Spencer boys used to bend it over over and catapult each other into the air! I believe it was Nevil who broke his collarbone on one of these flights. One way to create your own 'Disney' ride. Agnes Meeker
1930's: – Mr. David Edwards of Freetown (2015 age 92) remembers that Affie Goodwin (of Duer's and Yeamon's) was managing Lavington's and had a good stable of racehorses, some of which were named 'Easter Prince", 'Prince Whippet' and 'Rosemary.'
1943: August 1st Gunthorpe's Estates Ltd. was restructured into a 'new' company renamed Antigua Syndicate Estates Ltd. The Bennet-Bryson estates were Sanderson's, Long Lane/Lavingtons/Ffry's, Burke's/La Roche/Willis Freeman's, Jolly Hill (Jolly Hill , Blubber Valley, Ffry's, Montrose, Yorke's and the Cove), Hawes and Mercer's Creek, Cochran's and Thomas', and were bought for £39,000.
1969: The Lands of Antigua & Barbuda Sugar Factory Limited and The Antigua & Barbuda Syndicate Estates Limited (Vesting) Act. 30th December 1969.
All that piece or parcel of land forming part of Long Lane, Lavingtons and Ffryes, approximately 987.2139 acres as contained in Certificate of Title No.3611943 dated 25th September, 1943 and registered in Register Book Q Folio 36.
"When I was 12 we lived at Lavingtons Estate. That was a great house with servants quarters off the kitchen and a lovely garden. My brothers (there were nine of us) and I loved to play Cowboys and Indians. Two would be inside and two outside. We would shoot at each other with catapults and our bullets were made of u shaped wire. One night mum & dad went to the movies and we decided to play. It wasn't long before I got shot in my right eye and all hell broke loose. My brothers were holding fingers up and asking if I could see and I was just screaming. We were all trying to think of what we could tell mum & dad what happened, because we could not say it was the catapults because the boys would get a beating with the "cat two tail" so we decided to tell them that I got stuck in the eye with a bougainvillea bush. Next morning I kept my head down at breakfast so they would not see because my mother would go berserk. After breakfast I called dad aside and showed him my eye. He immediately rushed me to Doctor Wynter with our story. I had to lie on my back for 6 weeks so the blood would not go over my pupil and then dark glasses when I was outside for a while. It was not until I was 16 at my parents 25th wedding anniversary that Doctor Wynter told me he knew we were lying because the beauganvilla bush was poisonous and I would have lost my eye. He never said anything because he knew what my mum was like. I could not believe it." Pam Spencer Watson
Enslaved People's History
Based on contemporary research, we have little information to share about the enslaved peoples from this plantation at this time. We do know that, in 1829, Lavington's consisted of 185 acres and 150 enslaved people: 28 men, 44 women, 28 boys and 45 girls. We will continue our quest for more information about these vital individuals.
1833: Legacies of British Slave-ownership claimants. www.ucl.ac.uk/lbs/.

In 1833 Parliament finally abolished slavery in the British Caribbean, Mauritius and the Cape. The slave trade had been abolished in 1807 but it took another 26 years to effect the emancipation of the enslaved. The legislation of 1833 was the result of a combination of factors where it was felt that the plantation owners should be compensated for their slaves who were to be freed. The amount of 20 million pounds, a huge amount in those days, was divided up between all slave owners.

Sir William Abdy 7th Bart – awardee – absentee/resident? Antigua 259 (Lavingtons)435 2289 14s 8d (152 enslaved)

Rev. George Caldwell – awardee – absentee/resident? Antigua 342 (Lavingtons) 435 2289 14s 8d (152 enslaved).

Antigua 25 Lavingtons awardees are Sir William Abdy 7th Bart, Rev. George Caldwell, Sir Thomas Fellows and James Adams Gordon Esq. www.ucl.ac.uk/lbs/search/
Ownership Chronology
Prior Sir Ralph Payne's mother.
1739: Sir Ralph Payne, Lord Lavington (1739-1807)
1807: Lady Lavington
Ownership not right here.
1790: James Gordon (1766-1807)
1829: James Adam Gordon – 185 acres, 150 slaves.
1852: James Adam Gordon 1851 Antigua Almanac.
1871-78: James Maginley – 185 acres 1872 Antigua Horsford Almanac.
1921: J.W.A. Maginley
1933: G.W. Bryson & Co. Ltd. 1933 Camacho map.
1950c: Antigua Syndicate Estates Ltd.
1968: Antigua Government – Crown Land