About
Type: Extant
Parish: St.George
Founding date: 1750
See on Google Maps!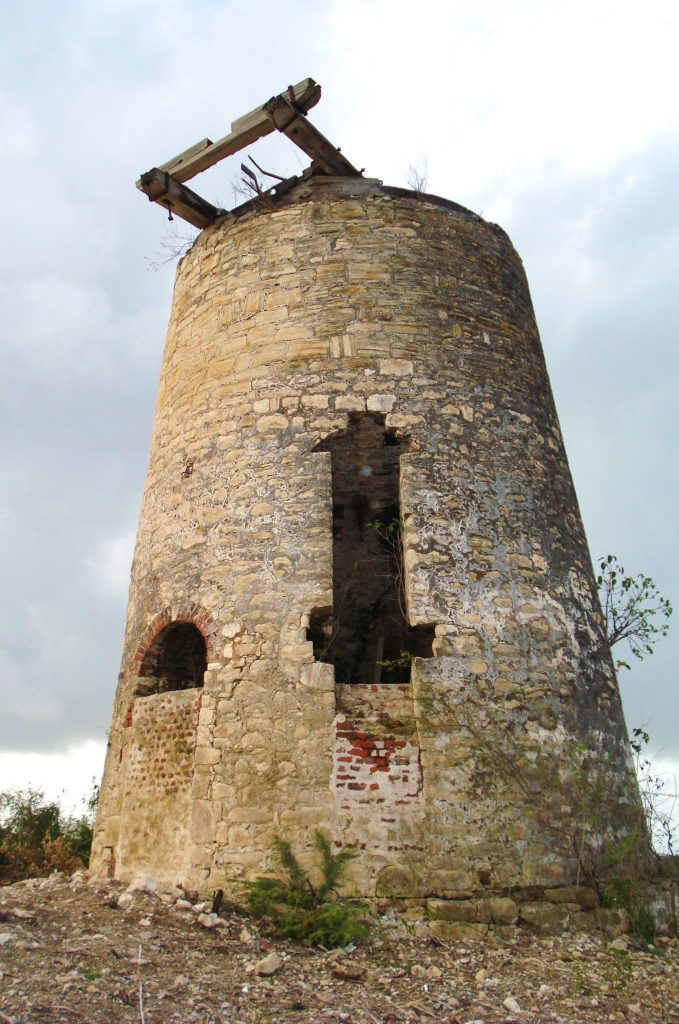 Current Status:
A mill still exists and is a bit different from others in that it is narrower and taller. Some of the wood on the top still shows and altogether, this mill is in good shape. There is no evidence that this estate converted to steam. Behind the mill are the remains of both the works and the buff house and in fact had a homeless person living in the rooms below. The only photograph found was one of Judge's estate house after the destruction of the 1950's hurricanes showing the mill in the background with its roof intact. It was through Mrs. Anthony Shoul, who was living in the house at the time, that we were given a copy of the photograph. The house was far too costly to repair at the time and it was not long before it was in ruins and covered by bush., Across the road are the remains of an old brick well and on the hill above once it had been cleared, large china shards came to light. Some were excellent samples of the blue ware used by many colonials during the day. The archives at Nelson's Dockyard has an excellent sample board showing and identifying the different types of china found in Antigua over the years that was put together by Desmond Nicholson. Just up the road to the north was Thibou's, to the east Nibb's, to the south Giles Blizard.

Estate History/ Timeline
1731 December: Green Island of 60 acres now belongs to Stephen Blizard by patent from Genl. Douglas." Vere Oliver Vol.I p.62. Letter by Stephen Blizard to Charles Tudway, Esq., at Wells, Somersetshire, by Capt. Patten.

July 16, 1763: (Tudway Papers) "The above is a copy of my last, and I have kept it back some time in hopes that we should by this time have settled the Plantation Accounts, but they are not yet ready to lay before us, tho I have made frequent applications to Mr. Ash, who lays the blame wholly upon the Clerke. As this is the last Bristol ship, I send you one sett of your Son's Marriage Articles. The other sett is yet in the office, but I shall not forget to get them out so soon as they shall be done with there, and sent them to your Son in London. Mr. Farley, Mr. Banister, and myself have had no conference as yet about a successor to Mr. Ash"

1825: Mrs. Jarvis refused to yield Blizard's to Messrs Turner. October 13 my sugars sold at 64/- and 68/-/ In 1829, contained 422 acres – 219 slaves.

1851: Antigua Almanac shows Blizard's Judge, of 422 acres belonging to Heirs of Stephen Blizard. 1852: contained 422 acres owned by heirs of Judge Blizard.

1852: "Giles Blizard's" is now owned by John Jarvis, Esq., of Mount Jarvis; "Judge Blizard's" in the same parish in 1852 contained 422 acres and was owned by the heirs of Judge Blizard; and "Will Blizard's," 30 acres, owned by Messrs. W. & F Shand. Vere Oliver p.65

1941: Antigua Sugar Factory, Ltd. Cane Returns for 1941 Crop. Judge's. Estimated 872 tons, 54 acres estate – acres peasant land on the estate, tons of cane delivered 725 at 13.42 tons per acre. As told by Helen Abbott. "Sometime in 1942, my father went to work for Mr. Clyde McDonald at Judge's Estate. Judge's had a huge backyard, or it seemed so to me then, surrounded by a lovely stone wall where we kept chickens. There was a myrtle lime growing around the tower, which was in front of the house, and across the road was a lime kiln. We made our own kites, had horses to ride and played marbles, jacks, board games, went for walks, and read. We were never bored. Soldiers from the nearby US Base often came for a home-cooked meal – they loved my mother's fried sweet potatoes – with pockets filled with chocolates and cigarettes."

1943: There was a sale of land by Syndicate Estates to the Government of Leewards Islands to facilitate the settlement of "Blizard's" village (which became Winthorpe's). 5,388 acres from Cedar Valley (formerly Giles Blizard's) went for £80.16s.5d. This estate was known as Judge's and was last inhabited by Anthony Shoul and family until it was destroyed in the 1950 hurricane. John Ferdinand Shoul family store on the corner of Long and Market Street has been serving the public since the 1930s, over 80 years. First named 'Kalil Shoul Branch Store,' shortened to 'Shoul's Branch Store.' When taken over by son John F. Shoul, Jr. who built the present building in 1996 after Hurricane Luis in 1995, the name changed to 'John F. Shoul's.'

Enslaved People's History
Based on contemporary research, we have little information to share about the enslaved peoples from this plantation at this time. We do know that this estate contained 422 acres and 219 enslaved people in 1829, and we also know that it was awarded £2919 14 s 8 d for the liberation of 217 enslaved peoples right after slavery was abolished in the Caribbean. We will continue our quest for more information about these vital individuals.

Legacies of British Slave-ownership: Stephen Blizzard's (Judges) awarded £2,919 14 s 8 d for 217 enslaved Awardees were Robert Hutchins, William Hutchings, Rt. Honourable Lord James O'Bryan, Hon Hercules Robert Pakenham and Hon Ann Byam Stapleton. Unsuccessful Jane Kerby (nee Byam. Jane Kerby, of Hampton Court Palace, claimed compensation for Stephen Blizard's estate in Antigua, along with Jane Young, of Brocke St. Bath (Somerset), as tenants for life. The compensation was awarded to the trustees of her daughter Anne Byam Stapleton's marriage settlement.
Ownership Chronology
1776 Stephen Blizard will codicil 1776 – 1777/78 Luffman map
1829 Heirs of Byam
1843 Heirs Stephen Blizard
1878 Mrs. Stapleton.(leased to G.M. Andrews) 1872 Horsford Almanac
1933 J.S (R?) McDonald 1933 Camacho map.
1945 Anthony (1909-1977) & Ferdinand Shoul (1911-2000)
References