About
Type: Extant
Parish: St.George
Founding date: 1671
See on Google Maps!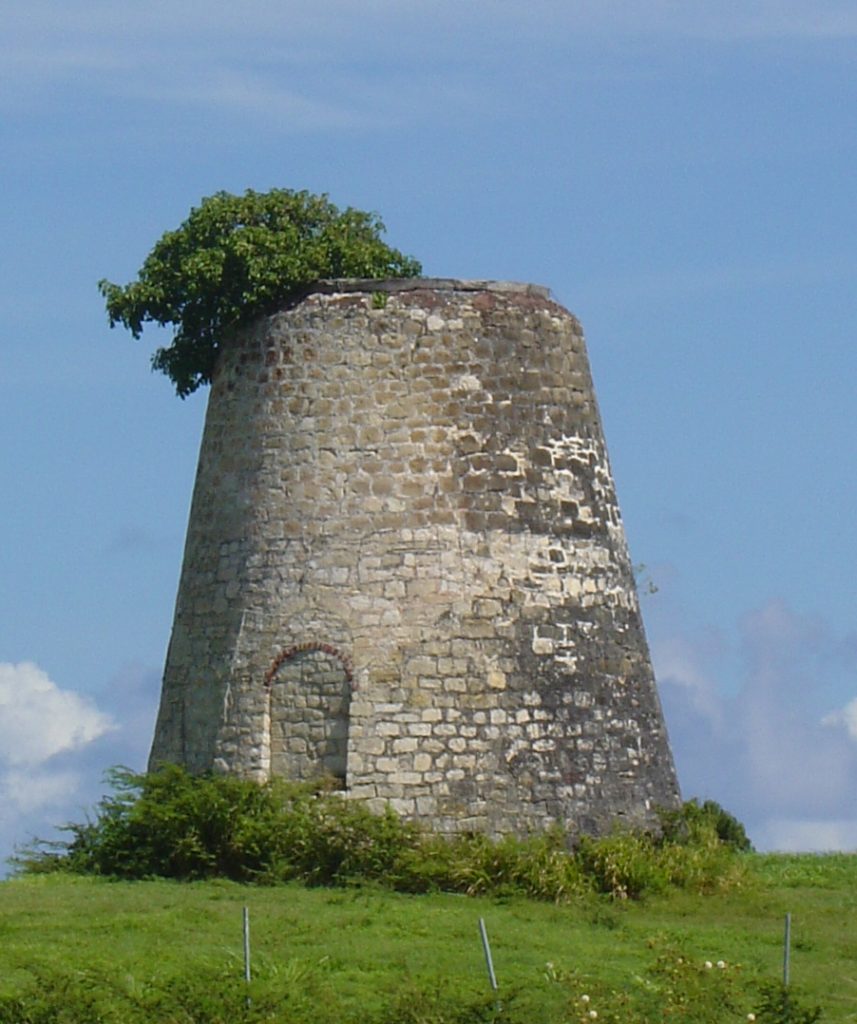 Current Status
The mill can be seen from the road not far from the Free Trade Zone buildings and with the exception of a tree growing out of the top, is in excellent condition. Will Blizard's is to the North, Hight Point (High) to the East, Gravenor's to the West and Winthorpes to the South.
There is no evidence that this estate converted to steam. Nearby is Camp Blizard, home to the Antigua & Barbuda Defence Force which used to be Stephen Blizard's estate and part of the US Army Base during WWII and later the US Navy Base.
Estate History/ Timeline:
1788: The will of Boyce Ledwell Esq. (d.1794) showed that he lived at Nibbs estate and had wanted to purchase the estate for his family. He was Ledwell of the Ledwell & Scott company that owned several estates in Antigua.
1829: The estate contained 131 acres in 1829 – 140 slaves.
1835: After emancipation when owners were compensated by the Crown for slaves freed it is recorded that a total of £297 were paid for all four of the following claims. Ann Nibbs owned 1 slave, Dorothy Nibbs 2 slaves, Eliza C. Nibbs 13 slaves and Mary H. Nibbs 6 slaves.
Records show that the Nibbs family had a burial ground at Barnacle Point (east end of the airport runway) up until 1808.   Oliver Vol.II p.300.   The site was recently disturbed by the backhoe (2007) and one Nibbs headstone was uncovered dating to the 1700's as well as two Collins headstones, a father and daughter.   These headstones were transported to Betty's Hope where it is planned that a cemetery of headstones rescued from development and the backhoe, will be displayed.
An interesting footnote is that Jane Austen's book "Mansfield Park" is supposedly built around this estate.   Her father George Austen was a very good friend of James Langford Nibbs during the period of 1765-1819.   James L. Nibbs was a frequent visitor to the Austen home and must have recounted his West Indian plantation experiences which formed the basis of Ms. Austen's book.   Sources of West Indian History, Augier 1962. F.R. Gordon
Jane's father George, taught James Langford Nibbs of Antigua when he was educated at St. John's College, Oxford and was appointed by Nibbs as a principal trustee of his Antigua estate. James Langford Nibbs was a godfather to Jane's oldest brother . She used this Antiguan connection in her novel Mansfield Park.
1851: Antigua Almanac shows Nibb's of 121 acres belonging to Heirs of Samuel Martin.
The mill is located inside the Freetrade Zone and was originally part of the US Navy Base after 1944.
1789-1849: George Savage Martin. In addition to compensation for eleven enslaved people on Antigua in his own name he counterclaimed as executor of Samuel Martin (identified as his father) on the Nibbs estate in Antigua. Unsuccessful claimant for High Point estate, also as executor of Samuel Martin.
Documents for the contested claim for Nibbs estate identify his father Samuel Martin (q.v.) who was also the father of John Halliday Martin (b.1782).
In the 1980's there was a brutal murder where King Obstinat's sister was found decapitated.   Selvyn Walter
George W. Bennett (d.1879) Merchant and Planter, was part of the Bennett-Bryson Company Ltd. The full history of this amazing company can be read in "An Antiguan Trading Company" by Mary Gleadall. John Bennett was sent out as a representative of Lloyd's in 1833 and Bryson's still represents Lloyd's today.
1943: Altogether Bryson's acted as agents for 11 sugar estates, however, George W. Bennett had acquired several sugar estates of his own. They were Blubber Valley & Rose Valley, with steamworks of 1164 acres; Claremont with steamworks of 849 acres; High Point of 212 acres; Nibb's of 131 acres. He also leased from Rev. Thomas Peters Golden Grove of 254 acres and Jolly Hill, with steamworks of 708 acres.
The Antigua and Barbuda Free Trade and Processing Zone offer attractive investment conditions, an enabling environment, professional and courteous service to all in order to facilitate mutually beneficial corporate partnerships.     Web Site.
Enslaved People's History
Based on contemporary research, we have little information to share about the enslaved peoples from this plantation at this time. We know that in 1829, this estate contained 131 acres and 140 enslaved peoples. We also have this historical tidbit: "In 1835 after emancipation when owners were compensated by the Crown for slaves freed it is recorded that a total of £297 were paid for all four of the following claims. Ann Nibbs owned 1 slave, Dorothy Nibbs 2 slaves, Eliza C. Nibbs 13 slaves and Mary H. Nibbs 6 slaves." We will continue our quest for more information about these vital individuals.

Legacies of British Slave-ownership:
Nibbs was awarded £2135 6 s 11 d no slaves mentioned – see second record #360.
William Shand awardee.

Nibbs was awarded £2063 10 s 5 d for 135 enslaved.
Awardees were Archibald Kelso, William Kelso fr., Samuel Martin and James Trecothick the younger. Beneficiary were Elizabeth Martin (nee Kelso), Frances Thwaites, Esq., John Henry Roper and Anna Maria Wrightwick. Unsuccessful was George Savage Martin.
Ownership Chronology
1671: James Nibbs granted lands for cultivation
1750: James Langford Nibbs friend of Jane Austen
1780: Jermiah Nibbs
1790: Jonas Langford Nibbs 1777/78 Luffman map
1829: Samuel Martin (1750-1825)
1843: George Savage Martin (1789-1849)
1851: Heirs of Samuel Martin
1872: Horsford Almanac
1878: George W. Bennett (d.1879)
1879: Henry Ogilvie Bennett
1891: James Rocke
1933: Clyde C. McDonald 1933: Camacho map
1940: George W. Bennett d.1879
1943: Antigua Syndicate Estates, Ltd.
1943: leased to the US Military by George W. Bennett
1968: Antigua Government – Crown Land
1980's: reverted to the Antigua & Barbuda Government and is now the Free Trade Zone