Type: Ruin
Parish: St.George
Founding date: 1725
See on Google Maps!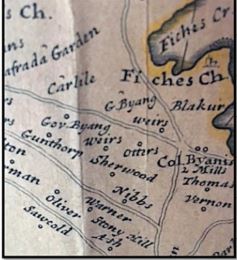 Current Status:
There is no longer a mill at this site and I am able to find very little information on this estate. Sherwood's lies between Gunthorpe's and Cedar Hill, just north of Stoney Hill. Sherwood Forest, about three-quarters of a mile off the Freeman's Road, northeast of Midway Gas Station.   It is near here that Court, Tomboy, and Hercules plotted the uprising of 1736 in Stoney Hill Gulley.   The area also abounds with petrified wood from an age-old forest much of which has been removed. The photograph showing "Sherwood's" is from a Herman Moll map, 1734.
Estate Related History/ Timeline:
Mr. Garrett Sherwood had 36 acres surveyed in 1668 by authorization of Lord Willoughby
There are several notations pertaining to Richard Sherwood who immigrated to Virginia US, in Vere Oliver's Antigua and the Antiguans. His eldest daughter Margaret married James Berry who was the rector of Saint George's and the death of another daughter, Blisse, is recorded in 1725, while another daughter Mary died in 1729. George Symes (1667-1723) married Elizabeth Sherwood (1672-1724) in Antigua but relocated to Virginia as did Richard Sherwood.
In "Works of America" it is recorded that a certain John Otter, who appears to have been a great trouble to the Justice of the Peace having been in the stocks five times, prevents a recurrence by making the unfortunate Otter a present to Thomas Coltloth and Richard Sherwood, two merchants of Virginia, to serve them as a slave for seven years.
1750: It is uncertain which Archibald Hamilton purchased Sherwood, there being a succession of Archibald Hamilton from Lord Archibald (1673-1754) who was a Scottish politician, right on down the line.    Codrington echoed these sentiments when he wrote from Antigua:  "Let me mention that Lord Archibald Hamilton has shown great zeal, and gained honor and esteem, both its fleet and army.   He served as my aide-de-camp at St. Christopher's and as Lieutenant-Colonel of the Marines at Guadeloupe where he showed a resolution becoming to his quality and a discretion far beyond his years."  1691.
Scottish Politicians ran in the family from Lord Archibald Hamilton (1673-1754), Douglas Hamilton (1740-1819), Lord Archibald Hamilton (1769-1827), Archibald Hamilton (1790-1815), and Sir Archibald Hamilton (1879-1939) who converted to Islam.   The Hamilton family owned Lightfoot's, Sherwood's, and Barter's estates.
There is an indenture dated 1725 between Archibald Hamilton and his wife Mary and Richard Sherwood.
1943: The land adjacent to North Sound known as Sherwood's Pasture was leased by the Antigua Syndicate Estates with Mr. DuBuisson offering to purchase for £100.
2016: Recently the Government of Antigua & Barbuda has said it will move quickly to demonstrate ownership of land at Sherwood's Estate, which it claims was bought "decades ago" and has warned those who also claim to own the land to halt commercial activity on it.   Unfortunately, the government failed to formally transfer the title for the land into the Crown as it should have done years ago.
Enslaved People's History
Based on contemporary research, we have little information to share about the enslaved peoples from this plantation at this time. We will continue our quest for more information about these vital individuals.
Ownership Chronology
1725 Lord Archibald Hamilton
1750 Heirs of Archibald Hamilton.
1777-1777/78 Luffman map.
1872 not in the 1872 Horsford Almanac
1933 not on the 1933 Camacho map.
1943 Mr. Du Buisson – leased by Syndicate Estates Ltd.
1946 Antigua Syndicate Estates, Ltd.
1971 Benjamin Edwards.