About
Type: Extant
Parish: St.Philip
Founding date: 1750
See on Google Maps!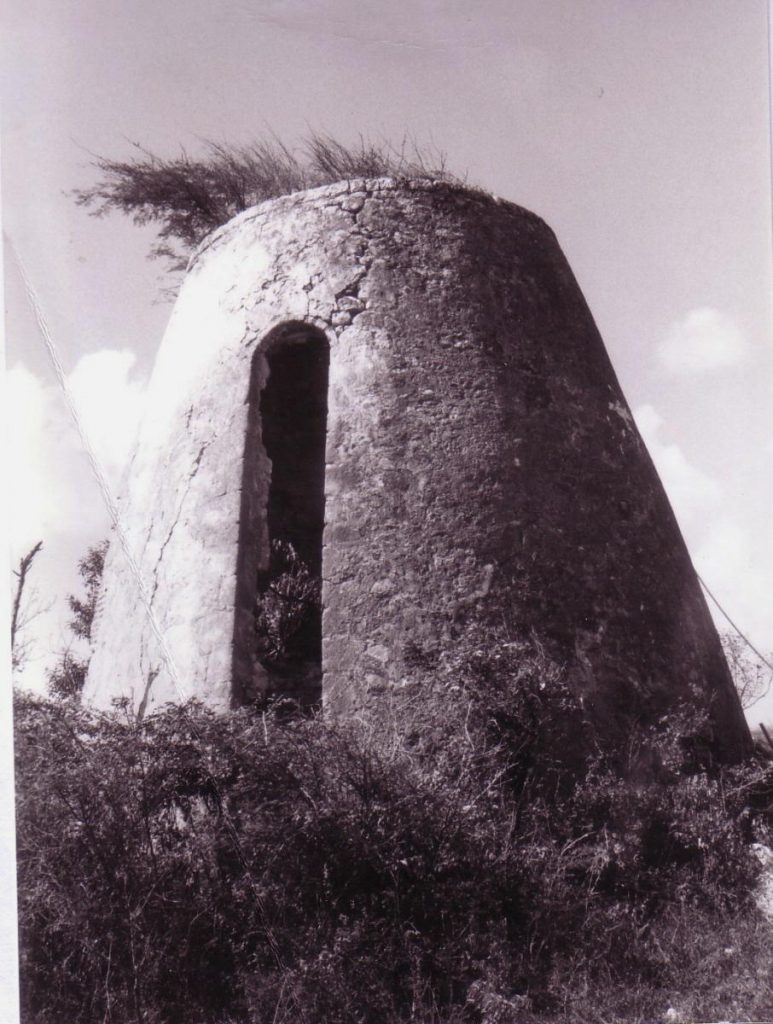 Current Status:
The mill is in excellent condition and there is no record of this estate converting to steam. Keystone on the mill bears the date "1843", the year of the great earthquake so was either rebuilt or repaired at this time. This estate is often 'coupled' with "Grants" nearby when at one time was owned by the same owners.
       "Henry Jefferson of Whitehaven, who traded to Antigua, married in Antigua about the year 1760, Ann Tweedie daughter of Robert and Jane Tweedie and sister to Mrs. Farquhar, wife of Robert Farquhar of Cades Bay, Antigua.  She was fourteen years old, and had fifteen children before she died in Whitehaven."
History of the Island of Antigua by V.Oliver Vol.II p.110.
Estate Related History/ Timeline
1677: Lt. Samuel Jefferson 30 acres.   John Jefferson d.1760, Robert Jefferson d.1807
 1771: Nathaniel Crump mentions he owns 150 acres in Belfast Division which he had purchased from John Jefferson dec.
George and Nathaniel Crump of Middlesex have sold "Crump's Mountain Plantation, Crump's Windward Plantation and Crump's Steel Plantation, all in Antigua, to Andrew Newton of London. M198 The Beinecke Collection.
Minutes of Council in Assembly, Jan.24- Feb.28 1729. An Act for the Banishment of several Negro Slaves Concerned in the late Conspiracy. In compensation for his four executed slaves Col. Crump received £80 for Hercules and £50 each for Boquin Prurry and Hannibal. For others banished, Crump got £50 for Cuffy and £45 for Glasgow.
Also recorded is Antigua #486 Little Sion, Belfast Division. I do not have a record of this particular estate, but note that the name Taylor appears below and John D. Taylor owned Sion Hill. The amount awarded was £1,452 17s 5d for 105 enslaved. The awardees were John Bradshaw, Richard Burroughs Eldridge, Ann Latham and Joseph Liggins. Unsuccessful was John Duncombe Taylor. Beneficiary deceased was Thomas Latham and 'other association' Alexander Duncombe (nee Moffat) and Henry Latham.
1820's: "Preached at Zion Hill ….. Met with a painful and an amazing case while there.   The first was that of a Negro who was married by Mr. Hirst but robbed of his wife by a base white overseer on the estate who committed adultery with her.   The poor fellow applied to me to dissolve the marriage.   I mentioned the affair to Mrs. Taylor and she engaged to look into it through Mr. Taylor.   There is I know, redress for the man by law if he can legally prove it, that is, prove it by oath of a white person for the oath of a negro is not taken, but that part of the Amelioration Act has never been acted upon."   Caribbean Adventure – Journal of Thomas K. Hyed edited by David V. Farquar.
Pares, Cochran's, Sion Hill and Mayer's owned by Watkin Owen Spencer Pell. 
1829: Combined with Grant's in 1829 contained 412 acres—272 slaves
1851: Antigua Almanac shows Sion Hill of 283 acres owned by John Lake
1947: all of the estates of Messrs Dew & Sons purchased by Syndicate Estates for £47,000.  For further information on the Dew family see Hodge's.
1958: purchased from  the Syndicate Estates by the Antigua Government.
Enslaved People's History
Based on contemporary research, we have little information to share about the enslaved peoples from this plantation at this time. The owners of this estate had 272 enslaved people working for them right before slavery was abolished in the Caribbean. We will continue our quest for more information about these vital individuals.
Legacies of British Slave-ownership claimants. www.ucl.ac.uk/lbs/.
In 1833 Parliament finally abolished slavery in the British Caribbean, Mauritius and the Cape. The slave trade had been abolished in 1807 but it took another 26 years to effect the emancipation of the enslaved. The legislation of 1833 was the result of a combination of factors where it was felt that the plantation owners should be compensated for their slaves who were to be freed. The amount of 20 million pounds, a huge amount in those days, was divided up between all slave owners.
Robert Boyes, John Bradshaw, Crawford Davidson, Henry Yarburgh Everitt and Samuel Mission Richards were all awardee. Antigua 48A (&B) (Sion Hill) 761 2734 7s 3d (176 enslaved)
       1838 Correspondence re claim made on negroes of Sion Hill (Antigua) by creditors from Alfred Latham to A. Duncombe (formerly Alexander Moffat) of Antigua.  Held by Bristol Record Office, 1838, Ref. 8032/54
Ownership Chronology
Ownership from 1750 John Jefferson. (d.1760)
1771: Nathaniel Crump
1790: John Taylor 1777/78 Luffman map
1820: John D. Taylor. 105 enslaved peoples
1829: Watkin Owen Spencer Pell (1788-1869); 412 acres—272 slaves
1851: John Lake – 283 acres–176 enslaved 1852 Antigua Horsford Almanac.
1871: Mrs. Owen Pell 1872 Antigua Horsford's Almanac.
1878: Mrs. Elizabeth Mary Pell – 292 acres
1921: Joseph T. Dew et al.
1933: Joseph Dew & Sons Ltd. 1933 Camacho map.
1947: Antigua Syndicate Estates Ltd.
1958: Antigua Government – Crown Land.