About
Type: Extant
Parish: St.Philip
Founding date: 1678
See on Google Maps!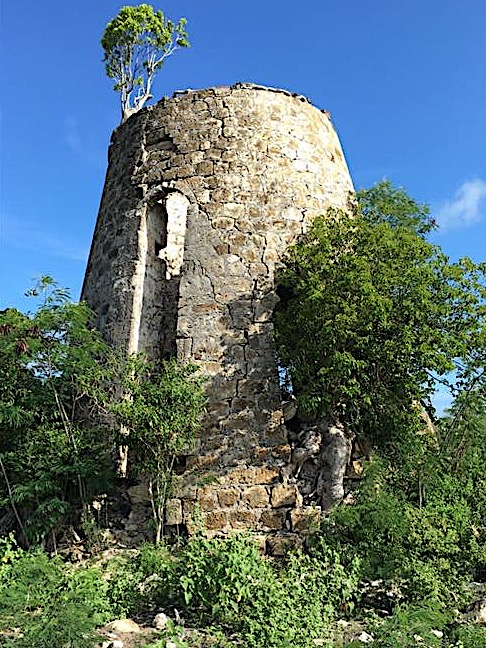 Current Status
There is a mill at this site which was the last to be discovered and photographed for this book which was in 2013. It had previously been totally hidden by tall bush, but this site was created after a Hash in the area when the land had been partially cleared by a bushfire. Today, it is even visible from the head of Nonsuch Bay from Gaynor's estate, across the water. A bush fire was partly responsible for opening up the land when some boys from nearby Comfort Hall went across to remove a honey bee's nest from the mill and dropped the smoke box. Fire engines and beaters were called in to contain the bush fire.
There is no record that this estate ever converted to steam and because of the proximity to Comfort Hall , which did, in all probability used their facilities for crushing the cane.
Estate Related History/ Timeline
1678, Nov.14: Timothy Cokeley, planter, sells 65 acres in Belfast Division to Benjamin King, which Elizabeth Cokeley, sen, inherited by the will of her late father John Lynt, and they were his only daughters." Vere Oliver II p.126
1729-32: H. Moll map shows an estate here called "Nonsuch"
1736: – "Captain John King, Sen., Gent. Will dated 8 Sep. 1736. To my wife Eliz. £10,000 of sugar in cask yearly for life, the use of my dwelling house, and 3 acres adjoining on my plantation in Belfast Division, furniture, & 2 negroes & right to feed 12 sheep. I give her 12 sheep and 150 pounds." History of the Island of Antigua by Vere Oliver Vol.II p.126
1746, Nov.24: "The Hon. Colonel Benjamin King's privateers have captured and plundered the French Isle of St. Bartholomew. Circa 1752. Memorial of Benjamin King that he fitted out privateers at a cost of 15,000 pounds and destroyed French ships and took 5 privateers at his capture of St. Bartholomew. Has lost £25,000 through Governor Mathew."
History of the Island of Antigua by Vere Oliver.
1773, 1843, and 1891 show this area as Lambert Hall.
1771: "Indenture between John Gray of Antigua Esq., now residing in London (eldest son and heir-at-law of Robert Gray of Antigua deceased, and devisee under his will) and Alexander Willock of Antigua Esq., being also at this time in London granting Willock 'all that plantation in the division of Belfast, in Antigua, formerly two plantations and containing altogether 250 acres or thereabout." History of the Island of Antigua by Vere Oliver Vol.II
1794: William Gilchrist married the daughter of John Gray, Rebecca Maria Harriett Gray hence showing dual ownership of the estate. In 1825 records show that he owned 32 male and 17 female slaves. In 1821, 1824 and 1832 William was the attorney to the trust estate of William Maxwell Esq., Richmond's and Howard's
1829: this estate contained 200 acres – 146 slaves. In 1921 230 acres.
1852: "Grays" Belfast in the Parish of St. Philip contained 200 acres and was owned by the heirs of Mrs. Gilchrist."
History of the Island of Antigua by Vere Oliver Vol.II p.35
Enslaved People's History
Based on contemporary research, we have little information to share about the enslaved peoples from this plantation at this time. From these records, we know that the group of 49 enslaved people grew to 146 in a matter of only four years. We know little else, aside from the fact that the plantation owners were awarded £2,075 for the release of 152 enslaved peoples after slavery was outlawed in the Caribbean. We will continue our quest for more information about these vital individuals

Legacies of British Slave-ownership: Gray's Belfast was awarded £2,075 15s 9d for 152 enslaved. Awardee was John Adam Wood. Unsuccessful were Hardman Earle, Elizabeth Grace Gilchrist, Rebecca Maria Harriet Gilchrist, John Gray, Charles Turner, John Hayward Turner and Samuel Athill Turner.
Ownership Chronology
Ownership from 1750 John King
1790: Hon. John Gray. 1777/78 Luffman map.
1829: John Gray & William Gilchrist. b.1753. (1860 Rev. Reid's diary tells of a'Gray' purchasing Ffry's estate giving him landownership "between the two churches". 230 acres, 146 slaves.) In 1825 records show that he owned 32 male and 17 female slaves.
1843: Mrs. Gilchrist. (Rebecca Maria Harriett Gray)
1852: Heirs of Mrs. Gilchrist – 200 acres 1851 Antigua Almanac.
1871: McDonalds & Co.
1878: D.C. Odlum. – 230 acres 1872 Antigua Horsford Almanac
1891: Heirs of Wm. Odlum.
1921: J.T. Dew et al. 230 acres
1933: J. Dew & Sons. Ltd. 1933 Camacho map
1947: Antigua Syndicate Estates Ltd.
1958: Antigua Government – Crown Land